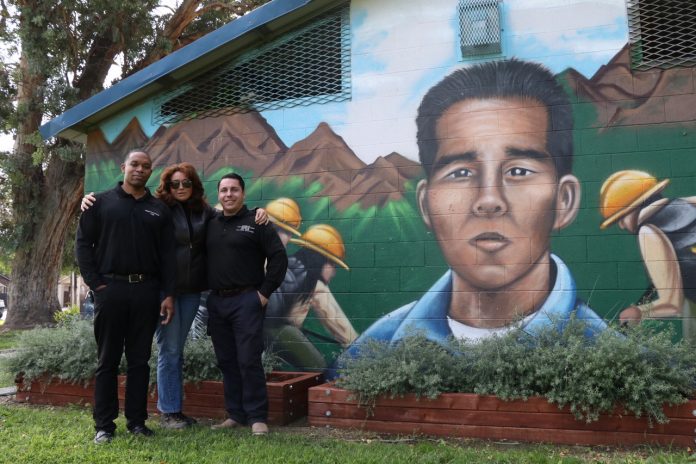 Sandy Bonilla recalls the beginnings of the Urban Conservation Corps, the workforce development program that has helped hundreds of at-risk youth receive job training and learn life skills.
"We had one van and about twenty members to begin with," Bonilla said, standing near a mural of her late husband, Bobby Vega, at his namesake park on 8th Street in San Bernardino. "Now we're at about one hundred members."

Vega and Bonilla's legacy has now extended to Indio, where they have opened a new headquarters. The leaders of the organization are still as focused as they were back in 2006 when they founded the UCC.
Like before, many of the youth recruited by the corps face social and economic hurdles.
"We live in violent neighborhoods," Bonilla said. "The kids exposed to this have found it normal to see fighting and shootings in their community. Many are walking around very vigilant and on edge."
The great thing about the conservation corps, Bonilla explained, is that their supervisors and staff have knowledge of the issues youth confront on the streets.
"The staff reflects the culture of the community," Bonilla said. "We listen to our youth and try to meet their needs."
Corp members are required to sign contracts–confirming their commitment to the organization's behavioral expectations. Once they are accepted into the UCC, they are assessed and placed according to their specific needs. For example, a young gang member may be placed in a working group with more passive members and mandated to meet with a life skills mentor.
"It's important to build rapport with the kids," Bonilla retorted.
UCC Deputy Director Andrew Goodman is among those kids Vega and Bonilla helped mentor as a struggling young man. In his 20s, Goodman–a native of Rialto–was heading down a troubling path that led him to incarceration.
Goodman, now 34, said he was initially turned away by the corps but continued to find ways to volunteer.
"I saw myself as a part of this organization," Goodman said. "Being outdoors and working with youth definitely had a big impact on my life."
UCC continues to help many former at-risk youth transform into park rangers, firefighters, and other noble professions. However, Bonilla admits it's difficult to see many of them move on. Nonetheless, she knows many of the young men and women of the UCC will eventually come back to serve their barrios.
"Our young people aren't commodities," Bonilla said. "They are the future of San Bernardino. These are the people that will keep our communities going."
In honor of Hispanic Heritage Month, IECN is featuring a notable group or individual each week.
---
Join our newsletter for weekly wrap-ups of our community coverage, exclusive advertising opportunities and local business specials!