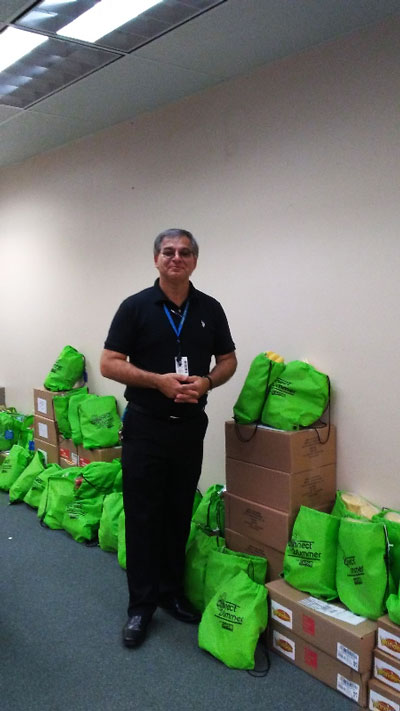 Many of the young students who attend Juanita Blakely Jones Elementary School in San Bernardino are in want of basic needs such as food and permanent housing. It has been Principal Ramon Velasco's mission since his term began five years ago to help alleviate some of those needs by establishing relationships with k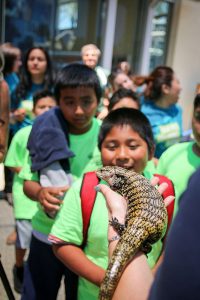 ey partners such as the Food Bank, St. Adelaide's Church in Highland, and most recently, Molina Healthcare.

"For many of our families academics are not a priority, finding food and shelter comes first," Velasco explained. "If I can take care of the food and provide resources for shelter, then hopefully (families) will be more apt to take care of the academics."
An inner city school located off Baseline on F Street, Juanita Blakely is known for being one of the most impoverished schools in the county. Of its 450 students, 110 are homeless, 55 live in nearby motels, and 22 are fostered youth.
"Together with the community we have made great strides among this neighborhood," Velasco said. In his first year he witnessed playground equipment and structures tagged with graffiti by delinquents. "There are no parks or playgrounds close by, so I opened up the school's play area to the neighborhood everyday, all day, as long as they are respectful."
Three years later, according to Velasco, those efforts resulted in the neighborhood taking ownership of the campus, and coming to the realization that it serves as a safe haven that strives to improve the lives of their children, and by extension, themselves.
During the summer break Velasco coordinated a food drive that provided all students with a back pack and brown bag to take home over the weekend with items that included instant noodles, frozen pizza, canned vegetables, fresh fruit, granola bars, rice, beans, and macaroni and cheese. Items, he said, that are easily prepared in a hotel room.
Some families reside in the nearby motels, doubling or tripling up with as many as a dozen people sharing a room. To merely provide enough food for the single student is "illogical," Velasco said.
"We provide food that will feed the entire family who is a part of our larger family." The Food Bank and St. Adelaide's Church provided food.
With the onset of the academic year on Monday, the weekend food program is slated to end, but Velasco is determined to find the means to continue meeting this essential need.
"It has been challenging to identify all the needs of our families, but we and our partners are working to understand and help meet those needs," Velasco said. "There are many of us who are vested in this school to make hope happen and I want this community to know that hope is there and we are here for you."
Through the campus students and their families can find a myriad of services. Partnering agencies provide emotional and social support, as well as healthcare through Molina and the Tzu Chi Foundation, and dental services courtesy of a neighboring facility. On the lighter and more fun side of emotional wellbeing the school was saving to take students on their first-ever field trip.
When Molina Healthcare caught wind of their plans, they quickly stepped in and coordinated with the Aquarium of the Pacific. On Tuesday, July 19 nearly six dozen students reveled in the rare experience to Long Beach. Lunch was provided by Jimmy John's, of which several students wrapped up to save for later or share with a parent, Molina Healthcare coordinators divulged.
"With the help of Jimmy John's Downtown Long Beach, the Aquarium of the Pacific and our employee volunteers we were able to provide the kids with a free lunch and a duffle bag filled with school supplies and snacks to take home," said Ruthy Argumedo, associate vice president of community engagement for Molina Healthcare. "It was truly a great day for all of us and a wonderful opportunity for several local organizations to get together to support a special school and its students."
Velasco was proud to announce that academic scores for Juanita Blakely have improved over the past three years.
For more information about getting involved or supporting Juanita Blakely Jones Elementary School, please call (909) 362-6223.