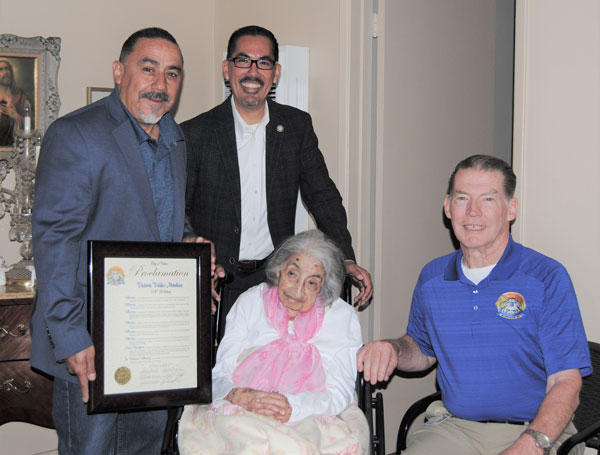 On Saturday, April 21, 104-year-old Colton resident Victoria Valdes Mendoza received a very special visit from Colton Mayor Richard DeLaRosa, Mayor Pro Tem Jack Woods and Councilman Ernie Cisneros.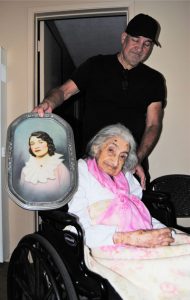 In her home on Grand Street, where she and her husband raised their family, Mayor DeLaRosa presented Mrs. Mendoza with a beautiful Proclamation plaque in honor of her 104th birthday (Feb. 26), but also as a tribute to her dedication to, and love, of the city of Colton.

Originally from Aguascalientes, Mexico, Mrs. Mendoza came to Colton in 1927.  She married Joe Mendoza in 1940 and they raised their four children in the very same home where she received the honor.
She had been active with the San Salvador Catholic Church, and as a well-known and sought-after seamstress, made the spectacular capes used to drape the shoulders of the reinas of the Fiestas Patrias. Mrs. Mendoza and her husband worked diligently on the floats for the fiestas, and she spent 80 years of her life providing hand crafted items for the bazaars as well.
Mrs. Mendoza made many wedding dresses, stuffed animals, blankets, and did crocheting for family and friends.  One of the things she was always counted on for were the colorful cascarones (egg shells) for Easter time.  During the 1940s, she was an active member of the Garfield Elementary PTA (now known as Wilson Elementary).
Family members came to see her receive the honor, and they all spoke of her loving kindness.  As her grandchildren came into the room, Mrs. Mendoza's face lit up with a beautiful smile as she reached out to touch their faces and hands. As she realized that everyone had come to honor her life, "Thank you," she would say softly as her eyes were wet with tears, "Thank you."
Mayor DeLaRosa said, "It is a unique opportunity and a blessing to have someone her age as part of our community.  Can you imagine all of the things she has experienced in her lifetime?  It is such an honor to be here, and to realize what she has accomplished."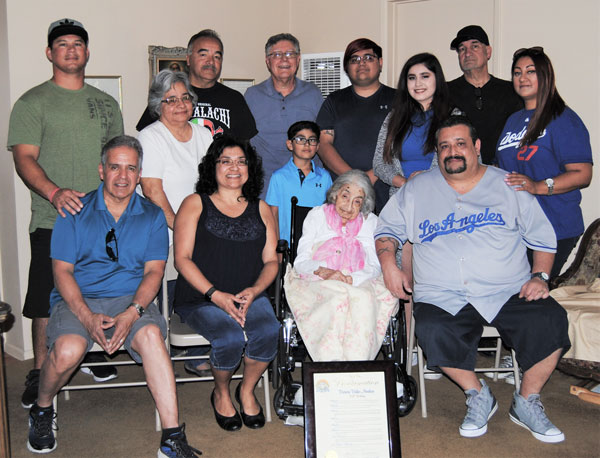 The mayor said that statistics show that approximately 5 people in San Bernardino County have attained about the same age as Mrs. Mendoza. Right before he left, he took the City of Colton Mayor's pin from his lapel and attached it to her scarf.  "Now, today, you are an honorary mayor," he told her as she grinned back at him.  It was a very touching gesture towards a woman who has spent 91 years of her life in this town she still calls home.
There is a video of the presentation of the Proclamation on the Facebook page 'You know you're from Colton if…'