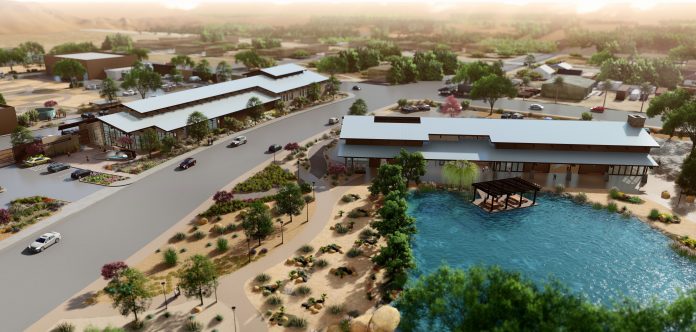 East Valley Water District's Board of Directors approved Balfour Beatty / Arcadis as the design-build partner to lead the design and construction of the Sterling Natural Resource Center (SNRC), located on the east side of Del Rosa Drive, during its regular meeting last month. The state-of-the-art wastewater treatment facility will produce water to recharge the natural groundwater aquifer, with a design focused on reliability, efficiency and flexibility to initially treat 8 million gallons of water per day. The facility will also include a Community Center supporting education, entertainment and leisure.
"The Sterling Natural Resource Center will be a multi-faceted public asset," said East Valley Water District Chairman Chris Carrillo. "Through the skills and expertise that Balfour Beatty and their team brings to the project, we are confident that the SNRC is on track to becoming a world-class facility."

Prior to making a recommendation to the EVWD Board of Directors, District staff conducted a thorough selection process with multiple best-in-class firms to identify a design-build partner that understood the project, its significance to the community and overall vision of the facility.
During the multi-step interview process, Balfour Beatty/Arcadis proved to be the most fitting firm through the presentation of innovative proposals, progressive concepts and a well-rounded team of infrastructure experts. The Balfour Beatty / Arcadis team includes the world class expertise of Balfour Beatty (project management), Arcadis U.S., Inc. (design manager/engineer-of-record); Ruhnau Clarke Architects (architect); Trussell Technologies (regulatory/permitting); WSP (off-site pipelines/recharge); and Inframark (operations).
"Selection of the design-build partner is a milestone that brings the Sterling Natural Resource Center one step closer to reality," said EVWD General Manager/CEO John Mura. "Now that we have secured our funding and selected our team, we are ready to begin construction before the end of 2018."
Permitting and construction of the SNRC is expected to be completed in less than three years with the facility serving the EVWD community and local businesses.
"For 20 years, Balfour Beatty has safely delivered projects that provide and treat water for communities throughout the state of California," said Crandall Bates, Vice President of Balfour Beatty's US Civils Western Region. "We are proud to bring this experience to our partnership with the East Valley Water District through the design and construction of the Sterling Natural Resource Center."
Capable of treating up to 8 million gallons a day initially, with the ability to expand to 10 million gallons a day, the SNRC recharges the local Bunker Hill Groundwater Basin and creates new opportunities for the surrounding community in the form of education and training, community space, neighborhood improvements, and new habitat for the Santa Ana Sucker fish. Construction on the Sterling Natural Resource Center will begin in late 2018 and is scheduled to be completed in 2021.