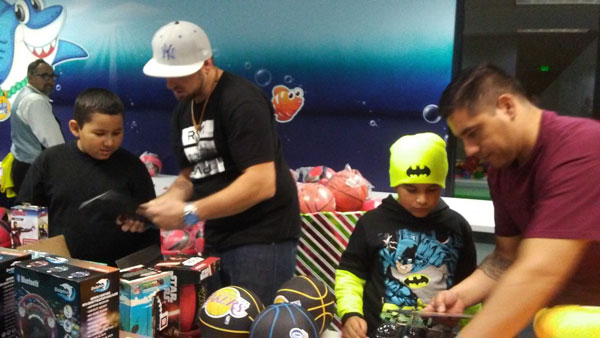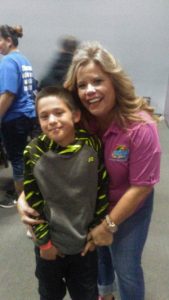 "Sometimes on Christmas morning we get nothing, and then I go into my room and cry," 11-year-old Polo Dominguez told The Way World Outreach Children's Pastor Susan Zavala. This year Polo and his 10 siblings, along with over 2,000 other children up to age 13, are guaranteed at least one present. The Way held its 12th annual Christmas present giveaway at its campus in the north end of San Bernardino on Sunday evening that included service and snacks for inner-city children and their families.
For those without transportation four shuttles were transported residents from the downtown campus on Arrowhead and 10th Street to Hallmark Pkwy. Gifts were organized by age that included skateboards, scooters, action figures, watches, basketballs, boxing sets, dolls, Doc McStuffins, Play-Doh, and much more. Children were escorted ten at a time by two volunteers to pick their present.
"We changed the format this year from handing out wrapped gifts to letting kids pick what they want so they wouldn't be disappointed to open a present they really didn't like," Zavala explained.
Pastor Marco Garcia, Associate Pastor Robert Cuencas, church staff and volunteers shopped for over 3,500 toys at various warehouses in Los Angeles last Thursday; funding came strictly from donations.
"There are so many toys to choose from," an excited and thrilled Joe Sedono, 8, gushed. "I've always wanted a scooter!"
According to Zavala on Christmas Day there will be plenty of toys to give out at the downtown campus for those who were not able to make it to the event.
"We made sure to purchase enough for the community so that no one would be left out this Christmas," Zavala said. "The way the children's eyes light up and to witness the joy on their faces is absolutely amazing and so heartwarming."
Parents and guardians had the opportunity to sit in service with Pastor Cuencas while their little ones enjoyed Christmas messages, activities and snacks.
"This event is so overwhelming, it brings so much joy to be able to give back to the community," said Pastor Cuencas. "There is nothing more rewarding that to be there for people when they need it the most, and to have a positive impact on them by offering presents during the Christmas season, hope and God's love."