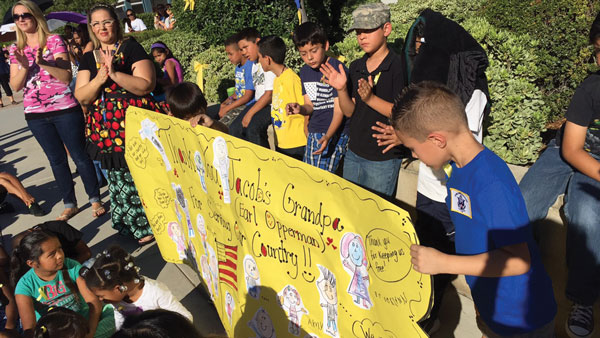 Students at Werner Elementary in Rialto got a first-hand look at courage and sacrifice during a Veterans Day assembly Nov. 10.
More than a dozen veterans — all family members of students and staff — received special honors as 'Werner Stars' and were celebrated with cheers and applause from youngsters for their time in the military.

One-by-one veterans introduced themselves and their children, grandchildren or family member ran up from the crowd to proudly give hugs.
One veteran, LCpl Ernest Hyde III, U.S. Marine Corps, received a standing ovation.
Hyde is a custodian at the school and was surprised with a certificate. Photos of him in service were enlarged and made into a poster, which will be permanently displayed at the school.
"It's overwhelming," he said. "Definitely a surprise, but it's a great feeling."
Werner's Nov. 10 event marked the first time the Rialto school formally recognized veterans on campus. But the celebration did not stop there – students gave "thank you" notes to all in attendance and sent additional notes of support to former military personnel at VA Loma Linda and USO Ontario.