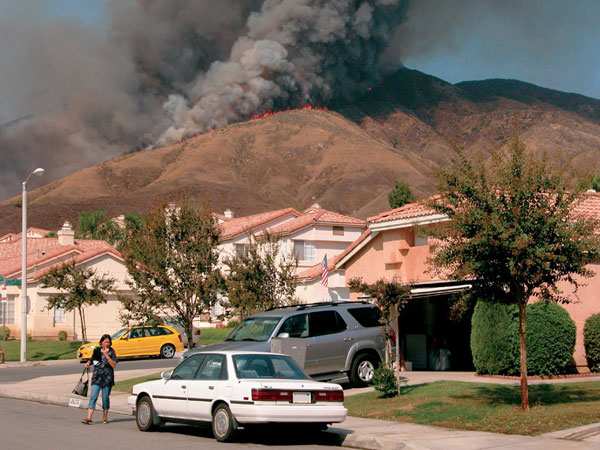 The Waterman Canyon Fire of 1911 was the first in recorded history to put San Bernardino residents on notice that Mother Nature rules. It burned for two weeks covering an area from below Big Bear and Crestline to Cucamonga Canyon almost to Hesperia. It created enough panic that San Bernardino's Mayor J.S. Bright put out a distress call for help from the Department of Defense.
The story of the 1911 fire was picked up by the Associated Press wire service, with newspapers as far as the Tampa Bay Tribune running banner headlines calling the Waterman Canyon Fire the largest in the history of the San Bernadino Mountain Range. However, old timers from San Bernardino swore there was a fire in 1888 that burned from Big Bear to Orange County into Los Angeles County. Another in 1889 allegedly came down the Twin Creek Stream in Highland and burnt its way past Baseline Ave. to threaten the City of San Bernardino. Fields of fire resistant sunflowers were said to have saved the city.

In 1911, every available male in the greater San Bernardino area was called to fight the Waterman Canyon Fire, wrote the San Bernardino Evening Telegram. There were no water dropping aircraft, buffet tables, or overtime. Fire fighters used shovels, brush hooks and faced the fire head-on. All city and county administrators picked up shovels including Assistant District Attorney R.B. Goodcell and County Humane officer J.J. Arbias. The Edison Company sent a 50-man crew to help protect its newly installed power line and transmitter in Devil's Canyon. Personnel were shuttled into fire zones by motorcycle.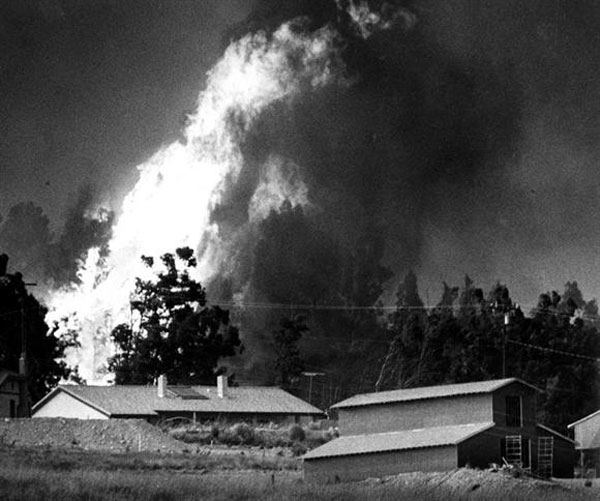 Riverside Daily Press reported that the 1911 fire erased thousands of years worth of nature in the twinkle of an eye. It wrote that both sides of the proud San Bernardino Mountains "were transformed into a waste heap of rock and clay."
The Press wrote that the Waterman Canyon Fire took two weeks to extinguish due to the lack of experience and organization of U.S. Park Rangers who were the lead agency in the fire fight. This, despite not having firefighting in their job description. One week into the fire, the Associated Press reported that 100 fire fighters became sick, disabled, with shoes burned from their feet. They were stranded in San Bernardino wearing clothes reduced to rags. Back then, the government made no allowance for caring for injured fire fighters.
Waterman Canyon and the Cajon Pass have served as wind funnels to propel many of the most destructive fires in San Bernardino history. Early aviators were warned to avoid the Cajon pass at any cost due to unpredictable wind pockets capable of sucking light craft up and down into death spins.
The current Blue Cut Fire is just one example of how treacherous Cajon Pass can be and those winds don't compare to those during the October Santa Ana wind season. But at over 100 homes incinerated, the Blue Cut Fire numbers ranks down that list. In 1980, Waterman Canyon powered the Panorama Fire that burned down 280 homes in the city's northend and damaged another 100 structures.
In the arson started Old Fire that started on Oct. 25, 2003, it was Waterman Canyon that again fanned that record setting blaze. After merging with two other fires it burnt down 993 homes, causing $1.3 billion in damage, according to a report by the U.S. Forest Service. It covered 91,000 acres from Lake Arrowhead, down Del Rosa to 30th St., whipping through Wildwood Park and the 40th Street wash paralleling Valencia Ave. It came close to the San Manuel Casino and burnt part of Cal State San Bernardino.
The next night it connected with the Grand Prix Fire between Devore and Fontana and ravaged new homes near Rancho Cucamonga. It covered a distance of about 70 miles spanning Running Springs to Glendora. Eight days later, snow and rain finally extinguished the Old Fire.