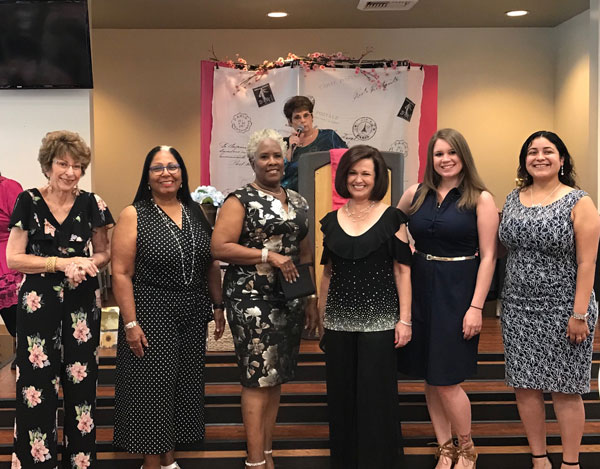 The Woman's Club of Rialto presented their Annual Fashion Show and Luncheon on Saturday April 21, 2018.  It was held at the Grace Vargas Senior Community Center and the captivating theme was 'Springtime in Paris.'
Amid a gorgeous backdrop of the Eiffel Tower and other Parisian street scenes, the Woman's Club Committee Chairperson Janet Story had created an ambiance of chic sophistication for the approximately 120 attendees.  Keeping true to the quote of the day from Coco Chanel offered by Club member Joanne Miller "A girl should be two things:  classy and fabulous," the event turned out to be both classy and fabulous.

With styles offered by the Dress Barn in Redlands, six models traversed the runway to the delight of those in attendance.  Maricela Ferguson, Letty Ingram, Betty Luvert, Angelicca Sanchez, Chelsea Prytherch and Pam Kennedy proved to be fierce fashionistas while showcasing the outfits to the crowd.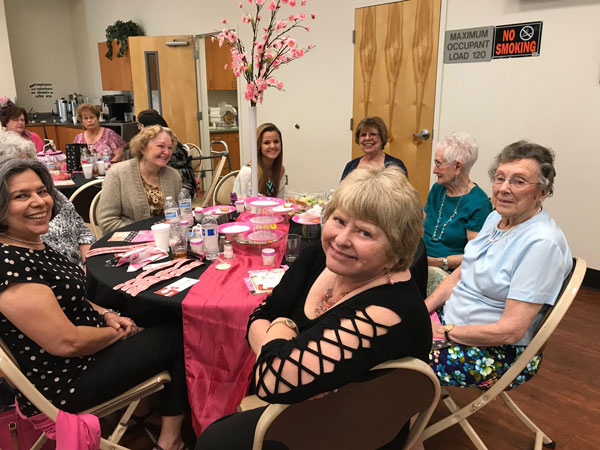 The purpose of the Annual Fashion Show and Luncheon is to raise money to provide for scholarships for the Rialto area high schools.  Four graduating seniors receive scholarship monies from the Woman's Club of Rialto each year, and this affair is one of the main fundraisers to help fulfill the subsidies to the students.
"The Fashion Show is our big fundraiser, and it has grown over the past years," said Sharon Hughes, who has been working with the Fashion Show for the past 15 years. "It has been very successful (in meeting the scholarship goals)."
There were nine vendors at the Fashion Show, and everyone had a lot of fun at the Photo Booth, hamming it up for the camera provided by Creative DJ and Creative Photo Booth Company.  The Fashion Show committee had worked diligently to make sure everyone would have a very good time.  Those committee members included:  Janet Story (Chairperson), Sharon Hughes, Mary Lundy, Joanne Miller, Diane Shields, Trudy Barton, Frances Dominguez, Toni Volinski, Patti Guerra, Cindy Freeman, Mike Story and Kathy Holm.
The Woman's Club of Rialto is always welcoming ladies who would love to be a part of making a difference in the community.  More information on membership or community events is available by contacting the Club President Diane Shields at dshields2016@att.net.