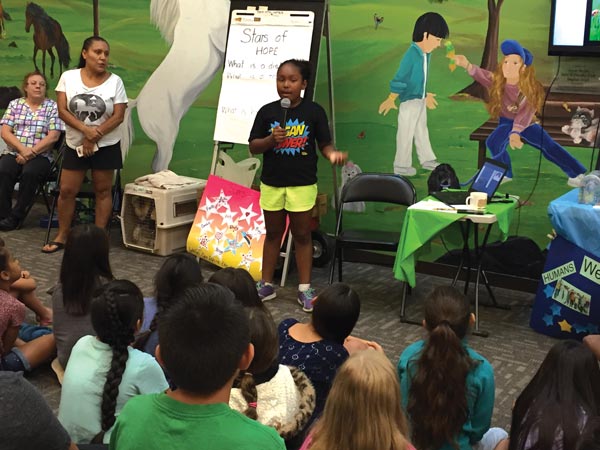 Critter Camp has one main rule: be kind. And 10-year-old Genesis Butler is the definition of just that, especially when it comes to animals.
"I love animals and it makes me sad knowing that they're being killed for food," said the young animal activist. "There's other ways we can get food without harming an animal."

Genesis, was among the several guest speakers at the Humane Society of San Bernardino's annual summer camp. The interactive, animal-centered learning experience aims to teach the importance of kindness and compassion toward all living creatures to school-aged children.
She was the perfect fit at Critter Camp, teaching her peers how she shows kindness to animals, and how the lifestyle she's chosen helps save creatures.
"I protest anywhere that abuse animals and I speak up for animals because they can't," she said. "I speak up for what I think is right." She explained to campers that at three-years old, she chose to become a vegan after finding out that chickens were killed to make chicken nuggets. From that day, she vowed to never eat them, or any food that required the killing of an animal, again.
Curious about her lifestyle, campers asked what foods she could eat, if she wore leather or fur and if being vegan was hard.
She said she still eats Taco Bell bean burritos with potatoes, chicken nuggets, mac and cheese, "just a vegan version."
"It's not that you can't eat meat, it's that you choose not to eat meat," she said. "This is what I choose, I love being vegan and I love standing up for animals."
The HSSBV will host a second Critter Camp this month from 8:30 a.m. to 12:30 p.m. July 24-28.
Several guest speakers are scheduled throughout the week and will bring animals and insects for hands-on learning opportunities. Children will also learn how being responsible for the environment by recycling plastic bags, plastic loops, and aluminum and metal containers protects animals. During camp, students will engage in subject areas including science, language arts, social science, mathematics, health, physical education, and music.
Camp is $40 per child and registration by July 17 is required. Limited scholarships are available and are limited one per household. Visit, www.hssbv.org to register.