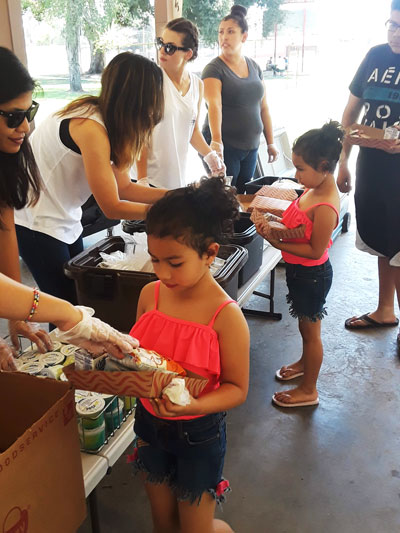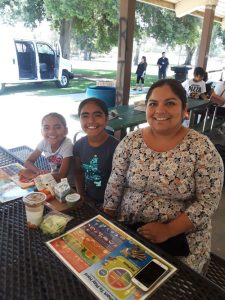 School is out for summer, but the Colton Joint Unified School District will continue to provide youth 18 and under with free breakfast and lunch. The kick-off barbeque took place on Monday at Veterans Park with nearly 100 community members in attendance.
According to Central Kitchen Supervisor Corrina Chavez parents and guardians mistakenly assume that school campuses are closed, but that is not the case – all school sites are open for food service; please enter through the office.

Under the USDA, the Seamless Summer Food Service Program ensures that low-income children continue to receive nutritious meals when school is not in session.
Below is a list of locations, dates and meal times. Text FOOD (English) or COMIDA (Spanish) to 877-877 for meal times and locations.
Please note that meals will NOT be served on Wednesday, July 4:
Bloomington Area
Bloomington Library (June 11-July 20)
Lunch 12:00-12:30 PM
Bloomington High School (June 11-July 6)
Breakfast – 6:50-7:20 PM
Lunch – 10:30-11:00 AM
Crestmore Elementary School (June 11-June 29)
Breakfast – 8:00-8:30 AM
Lunch 10:50-11:20 AM
Joe Baca Middle School (June 11-July 6)
Breakfast – 7:50-8:20 AM
Lunch – 10:25-10:50 AM
Kessler Park (June 11-July 20)
Lunch – 11:30 AM-12:00 PM
Ruth O. Harris Middle School (June 11-July 6)
Breakfast – 7:50-8:20 AM
Lunch – 10:25-10:50 AM
Smith Elementary School (June 11-June 29)
Breakfast – 8:00-8:30 AM
Lunch – 10:50-11:20 AM
Colton Area
Colton High School (June 11-July 6)
Breakfast – 6:50-7:20 AM
Lunch – 10:30-11:00 AM
Colton Middle School (June 11-July 6)
Breakfast – 7:50-8:20 AM
Lunch – 10:25-10:50 AM
Lincoln Elementary School (June 11-June 29)
Breakfast – 8:00-8:30 AM
Lunch – 10:50-11:20 AM
Rogers Elementary School (June 11-June 29
Breakfast – 8:00-8:30 AM
Lunch – 10:50-11:20 AM
Gonzales Community Center ( June 11-July 20)
Lunch – 11:30 AM-12:00 PM
Luque Center/Veterans Park (June 11-July 20)
Lunch – 12:00-12:30 PM
Grand Terrace Area
Grand Terrace High School (June 11-July 6)
Breakfast – 6:50-7:20 AM
Lunch – 10:30-11:00 AM
Terrace Hills Middle School (June 11-July 6)
Breakfast – 7:50-8:20 AM
Lunch 10:25-10:50 AM
Cooley Ranch Elementary School (June 11-June 29)
Breakfast – 8:00 AM -8:30 AM
Lunch – 10:50-11:20 AM