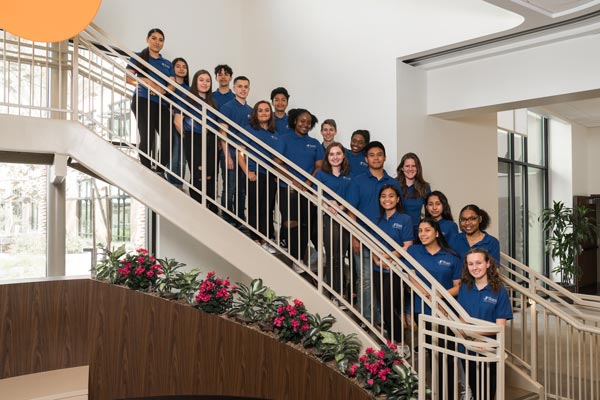 The Community Foundation's Youth Grantmakers Program, completing its ninth year, has provided the opportunity for high school students in Riverside and San Bernardino counties the opportunity to be philanthropic while obtaining critical skills – leadership, public speaking, compromise, reading and analyzing grant applications.
During the 2017-2018 year 77 Youth Grantmakers made up the Riverside, San Bernardino, Coachella, and most recently Temecula (with students from the Pechanga Tribe) programs, representing 23 high schools in the two-county region.

"The goal is teach young people about the tradition of philanthropy," said Celia Cudiamat, Senior Vice President of Grants and Community Impact. "We hope the end result is an ethic of service and lifelong involvement in their community."
According to Denisha Shackelford, Youth Initiatives Manager, during the nine-month program participants convene for three hours one Sunday of the month where they listen to presentations from, and engage with, nonprofit representatives. Additionally, the youth-led leadership program has various committees within each group, such as social media, community service and team-building committees, which are run by a designated youth chair and co-chair.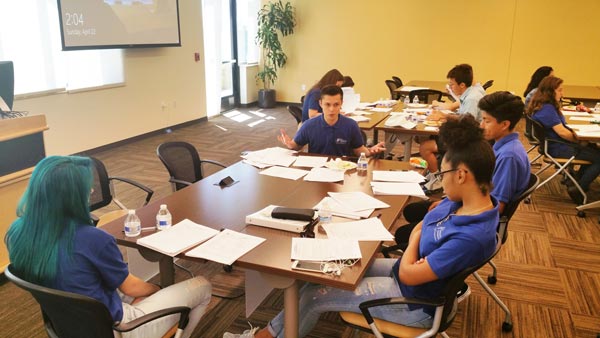 The San Bernardino Youth Grantmakers was comprised of 21 students from Aquinas and Cajon High Schools, and Mother of Divine Grace Schools.
"Participating in Youth Grantmakers has impacted me in a positive way. Reading about the work that is being done to make the world a better place has been really encouraging, in turn fueling my desire to serve my community," revealed Pia Portea of Aquinas High School. "I leave meetings with a sense of hope and knowing that we are improving the community and the lives of our fellow youth."
Members are called to identify the issues teens face and narrow it down to four or five choices, which may include depression, alcohol and drug abuse, academic stress, teen violence and bullying. Following the peer needs assessment participants issue a Request for Proposal (RFP) to nonprofit organizations they determined can best support the identified needs.
Students learned to read and analyze a grant application, respectfully debate the most critical needs while learning to listen to others' perspectives, and prioritize the many worthwhile requests.
"The Youth Grantmakers Program has given me an in-depth look into the grant review process," remarked Drew Holder of Citrus Valley High School.  "It's great that youth are given a platform to come together and make real life decisions about the needs of our community and give back in a financial way to those programs that supports those needs."
The Community Foundation allocates $10,000 to each group for grants, funded by community donors.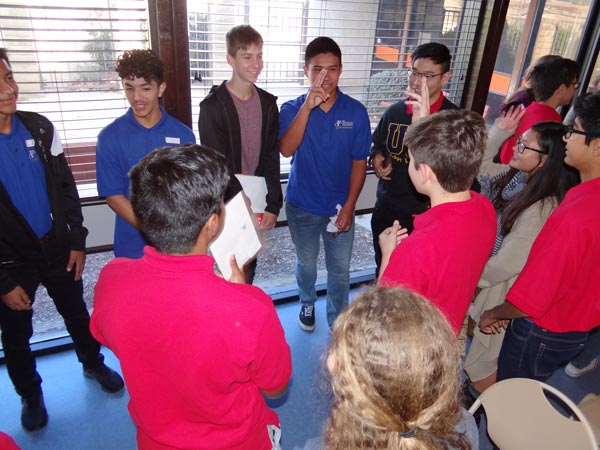 The culmination of the program is celebrated during a recognition ceremony highlighted by youth presenting nonprofits with checks. The San Bernardino program selected five nonprofits to receive a total of $9,650 – Big Brothers Big Sisters Inland Empire, The YouthHope Foundation, Highlander Boxing Club Program and San Bernardino Fatherhood. Graduating seniors awarded an additional $3,000 in grants to their "Charity of Choice," approved by the Community Foundation's Board of Directors.
"It's amazing how we can bring young people into a room to make grown up decisions to impact lives, to empower them to make decisions," Shackelford concluded. "This is our future and I know beyond a shadow of a doubt our future is in good hands because of the passion these young people possess. They have the desire and drive to be the change they want to see in their communities, schools, and ultimately the world."
High school sophomores and older are encouraged to apply to the Youth Grantmakers Program at www.thecommunityfoundation.net or call the Program Department at (951) 241-7777. Returning students will convene in September, and a new student parent orientation will take place in October.