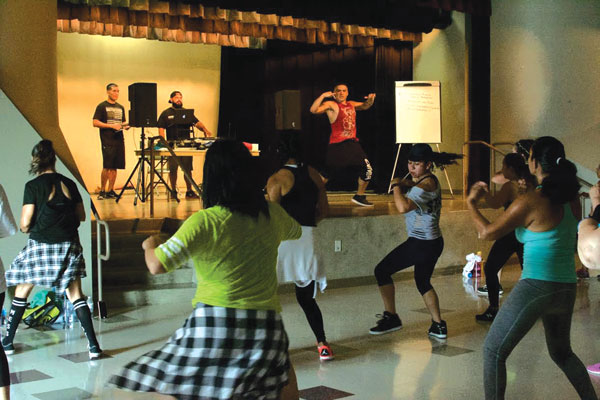 Fitness fanatics in Rialto put a little extra pep in their step Saturday morning as they moved and grooved at a Zumbathon — all in the name of charity.
Organized by Gino Garcia, an active community member and owner of Vibe Fitness, the high energy event brought out nearly 100 people in support of Rialto Police Department's Fallen Officers Memorial Fund.

The dance-focused fundraising event — the first of it's kind to support the cause — raised $1,000.
"Many don't know about the fallen officers and I wanted to do something to raise awareness," Garcia said.
Rialto observes Jan. 31 as Rialto Police Officer Remembrance Day to honor Officer Sergio Carrera Jr., Sgt. Darrell Keith Lee, and Sgt. Gary Wolfley— all who gave the ultimate sacrifice.
The department fundraises throughout the year to build a permanent memorial outside of Rialto's central station along Willow Avenue to pay tribute to the fallen men.
Garcia has launched a Facebook page — Operation Rialto Heroes Memorial — where he plans to organize future events to not only aid the cause, but in an effort to bring the community together.
"This is a long term commitment," he said. "The first of many, hopefully."
As part of the Zumbathon, supporters danced for more than an hour at Rialto Middle School following the routines of five instructors and Zumba-mixing by Dj Frankie J. Giveaways and raffles were held with items provided by Nutrishop North Fontana, Against the Ropes Boxing Club, among several more.
To learn about future events and the memorial fund visit Rialto PD Memorial Wall on Facebook or www.rialtopd.com.