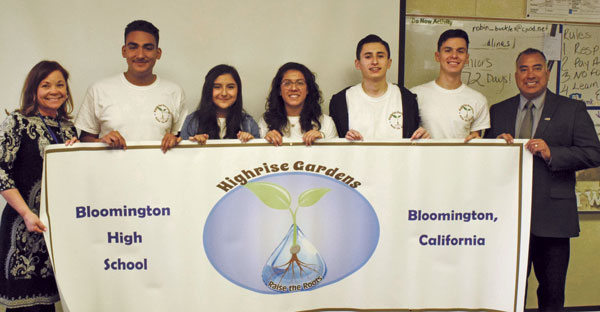 Congratulations to Bloomington High School Virtual Enterprise students, who are headed to New York City this April to compete nationally for the first time.
The BHS team, Highrise Gardens, was among only six teams in the state chosen to compete in the National Business Plan Competition at the Virtual Enterprises International Youth Business Summit, which takes place April 16-18 in New York City. The team will be among 220 teams from 150 schools representing 18 states and 10 countries.
This marks the first time that BHS has won at the state level and advanced to the nationals. Highrise Gardens also earned the highest score in the state on the written portion of the competition – with 101 out of 100 points.
Another BHS team – Novel Pursuit — made it to the 16 top teams in the state. A total of 42 competed.
"I am extremely overwhelmed," stated teacher Robin Buckles. "I still am in shock and proud…They're exceptional."
"I'm very excited for them," added Bloomington High School Principal Sandy Torres. "To take a brand new idea and take it to where they're going to New York is an incredible accomplishment."
Team members are still a bit overwhelmed by their achievement.
"I still can't believe we made it this far," said team member Alejandro Contreras, a Bloomington High School senior.
In addition to Alejandro, the winning team includes Abraham Padilla, Enrique Moreno, Roxanna Canales, and Daniela Lopez.
The Highrise Gardens virtual business centers on aeroponics – growing plants vertically without soil; an industry students felt would be beneficial in large cities. The idea would be for city-dwellers to be able to grow their own healthy crops, even if they don't have room for a traditional garden. Team members got the idea after seeing a video highlighting the need for a way to bring crops and greenery into urban landscapes with little outdoor space.
Competition is fierce, Mrs. Buckles noted. Most teams spend up to two years preparing. BHS worked on their project for four months. For all but one of the team members, this was the first time competing at the state level.
"It was new and scary," Daniela said of her experience at the state contest. "New York is going to be a bigger new experience. We're looking forward to that."
The Virtual Enterprise competition started at the local level with students from our region competing last November in Redlands. Virtual Enterprise includes a variety of business-themed competition areas, such as marketing plans, elevator pitches, sales catalogs, and just about every facet of running a business. The business plan competition is one of the hardest, because it is basically "like a thesis," Mrs. Buckles noted.
Students not only have to come up with a business that will fill a need, but they also have to elect corporate officers, set a budget, project costs and revenues, develop a marketing plan, and have pretty much everything that a real corporation would have…except virtually.
After coming up with the comprehensive plan, members then had to "pitch" their idea to a panel of seven expert judges. The questions presented by the judges were pretty tough and team members had to answer with precision and confidence. Some of the tougher questions involved financials.
"We weren't seen as kids making something up," Enrique noted. "They saw us as an actual business."
To ensure that they were prepared, each team member rehearsed others' parts, so they could support one another in the high pressure presentation. The experience reinforces critical thinking, research, and writing skills as well as "soft skills," Alejandro added.
"We had to relate to (judges) as well," he said.
Regardless of the outcome at nationals, Roxanna said the experience has been one she will never forget.
"The whole experience really brought this team together," she said. "It made us realize, we can do anything we plan to do."