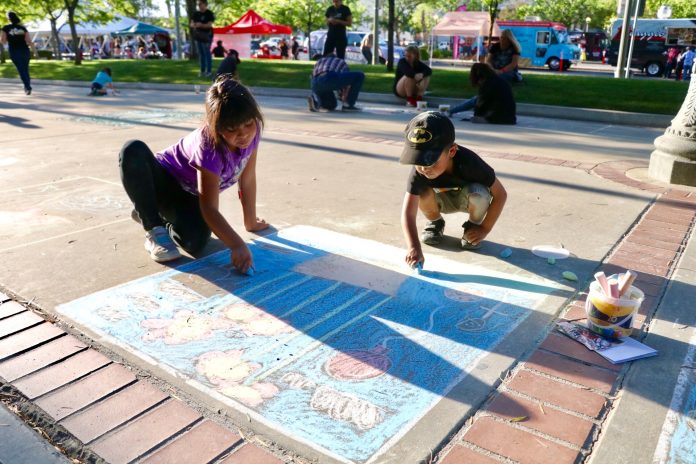 San Bernardino's Second Annual Art Night last weekend allowed artists like Long Nguyen to showcase their portfolios for the first time in a public setting.
"I've never really introduced myself as an artist anywhere," said Nguyen, 28, who works as a tattoo artist in Ontario. "So far it's been a good experience. I've met a lot of friendly people and connected with other artists."

Thousands of people walked through the Carousel Mall and Court Street Square on April 20 and 21–enjoying live musical performances, live art, exhibits, and chalk art.
The city decided to expand the event this year to two days in order to attract more people and accommodate its participants.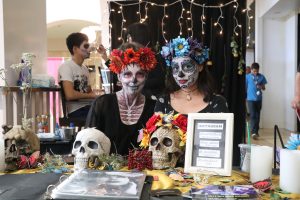 San Bernardino Valley College students Thomas "Bear" Ramirez and Daniel Soria said being able to leave their art work inside the Carousel Mall overnight made it easier for set up and allowed for them to view other artists' work.
Ramirez, who specializes in indigenous acrylic paintings and ceramic pieces, said he was impressed with this year's organization of the event.
"This event demonstrated that there are a lot of great artists in San Bernardino," Ramirez said. "Many of these artists, who are mainly young people, have never had the opportunity to showcase their work and skills. The power in art is its ability to unite people and bring them together."
Soria said there's "no doubt" San Bernardino is in need of a burgeoning arts scene.
"If it wasn't for this event, downtown would be a ghost town right now," explained Soria. "It's been a great crowd. It seems people were very jazzed about this event."
City Manager Mark Scott told residents he believes the arts is the key to revitalizing the city's downtown.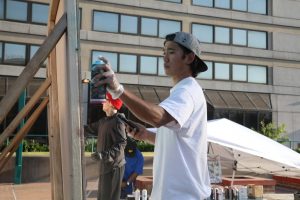 "This city is coming back," said Scott during the event's opening ceremony on Friday afternoon. "There is no community that has ever had downtown come back that didn't do it through the arts."
Cal State San Bernardino student Raylene Perez, 21, was glad she volunteered during the event and was moved by people's creativity.
"It was fun to come out and give back," she said. "It's inspiring to see the various takes on nature through art."