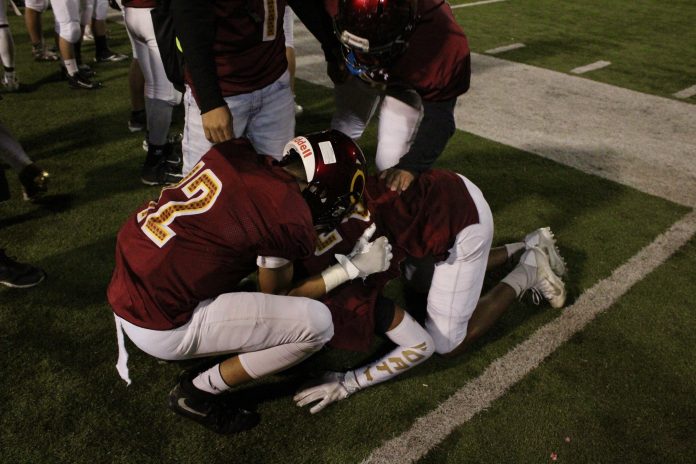 Colton High School's football team is back in the CIF Playoffs after a two-year absence after edging out Fontana Summit in a high-scoring game at home on Friday, Nov. 3.
The Yellowjackets (6-4 overall; 3-2 league) were led by senior running backs Lawrence Campbell, who rushed for 269 yards and four touchdowns, and Mario "Chief" Fierro III, who rushed for 237 yards and two touchdowns.

The win secured a third place finish in the Sunkist League final standings and a spot in the Division 12 playoff bracket for Colton.
"I'm very proud of our boys," Colton head coach Shawn Collins said about his team's accomplishment. "They stayed the course…they deserve this."
Colton didn't waste time getting their offense going, as they took the lead on their first drive of the game. Fierro III penetrated through the Skyhawks defense for 70 yards, with Campbell following up with a short drive of his own to get into the end zone. An extra point attempt put the Yellowjackets up 7-0 within the first minute of the game.
However, Summit (5-5 overall; 2-3 league) responded within two minutes. A pair of complete passes from quarterback Troy Temmink to wide receiver Kavan Johnson was followed up with a five-yard rush from running back Prezhaun Norman to tie it up at seven.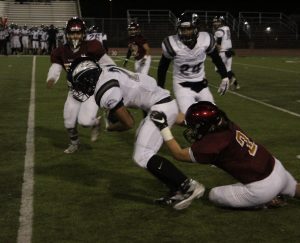 Campbell jolted past the Skyhawks defense for 67 yards, followed up by a short rush from sophomore quarterback Alex Zamora to regain the lead. Summit managed to block the Yellowjackets' extra point attempt to keep the game at 13-7. The quarter ended with Colton losing the lead after the Skyhawks found the endzone again with two minutes to go. Zamora fumbled the ball from the pocket, which resulted in a field goal for Summit to put the game at 17-13.
The second quarter saw both teams trade blows. Campbell bolted down the field–this time for 70 yards to give his team a 19-17 lead. Colton's two-point conversion attempt was then thwarted by the Skyhawks defense. On the other end, Temmink's 50 yard pass to Johnson saw Summit regain the lead. The Skyhawks saw their own two-point conversion stopped by the Yellowjackets defense.
Both teams would trade off the lead once again before Colton took an extensive lead in the second half. Campbell rushed into the end zone for his third touchdown to put his team up by five with a minute to go in the third quarter. Fierro III opened the fourth quarter with a 44-yard rushing touchdown to put the Yellowjackets up by two points.
The Skyhawks were able to close the gap when Temmink's seven-yard pass found Ayries Palmer for a touchdown with nine minutes to go in the fourth, but once again found themselves down by two scores as Campbell rushed for another touchdown with two minutes to go in the game.
Norman's 30-yard rushing touchdown made the score 47-40, but it wasn't enough for the Skyhawks.
Colton's leading scorers Campbell and Fiero III both expressed pride in their team's accomplishment.
"For many of us, this is our first time going to playoffs," said Fierro III. "And we're all in."
The Yellowjackets will be all focus and business come Friday when they face off against Patriot High School, expressed Campbell.
"We're gonna go practice on Monday again and train harder for playoffs," he said. "We're gonna take this all the way."
Meanwhile, Skyhawks head coach Nicholas Matheny, whose team will travel to the San Gabriel Valley on Friday to face San Marino High School, gave credit to the Yellowjackets for their victory.
"My hat's off to Coach Shawn," Matheny said. "They outcoached us and outplayed us."
Fernanda M. Tovar contributed to this story
---
Join our newsletter for weekly wrap-ups of our community coverage, exclusive advertising opportunities and local business specials!