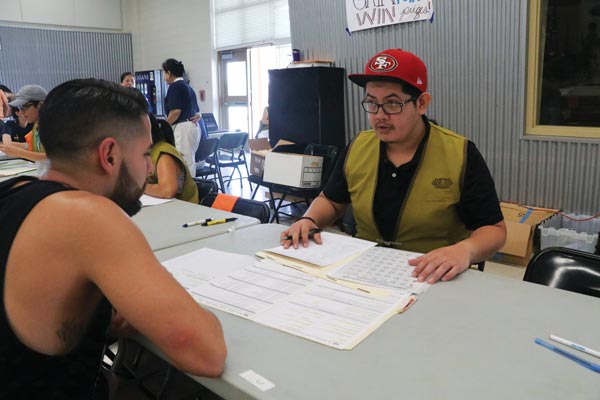 Close to a hundred people lined up outside Indian Springs High School in San Bernardino on August 27 to receive medical and dental treatment from dozens of volunteers. The Tzu Chi Foundation–a Taiwanese humanitarian group–has helped thousands of low income residents receive support they wouldn't otherwise get.
But why are these philanthropists so dedicated to helping people in San Bernardino? Former Cal State San Bernardino Dean Dr. Tom Rivera explained the non-governmental group reached out to him 23 years ago after they noticed the high poverty of the area.

"Tzu Chi was just getting started in Southern California," Rivera said. "They wanted to provide care and support for the people of the Inland Empire. By providing free medical services, Tzu Chi believed they could alleviate the hardships of over 40 percent of people that lacked health insurance."
The group consolidated a partnership Rivera believes has developed trust among multiple ethnic groups and fosters community service.
"We want people to be here," Rivera said. "We need their help in developing an Inland Empire volunteer corps."
The "labor of love" concept is one that began with Tzu Chi Founder and Buddhist Dharma Cheng Yen. The 83-year-old has devoted the majority of her life to providing medical care to poor people and helping with disaster relief across the world. It explains the "selfless" attitude many volunteers carry, Tzu Chi representative Andrew Lin said.
"We know this is an area with a large poverty rate," Lin expressed. "That's why our kind volunteers are willing to help for free. We empathize. We treat these patients like they are our neighbors, our sisters and brothers."
Steven Chu, 27, of Covina said his parents got involved with Tzu Chi decades ago and introduced him to service at a young age. His entire life revolves around serving others, he said.
"It's good to expand and spread the word to inform and help people in need," confirmed Chu.
When he first heard about the organization in 1991, Max Chen saw the need to help carry out Cheng Yen's vision. He said he's thankful to the organization for allowing him the chance to hear the stories of the people that are struggling to live.
"It's always important to do as much as you can because you will be rewarded for it," he said. "There's always a way you can help others."
Coming from a poor background also drives one to give back to the community, explained Tony Chabolla. The 28-year-old CSUSB Computer Librarian volunteered for Tzu Chi for the first time. He believes there will be a greater need for Tzu Chi's services.
"It's a great stress reliever," he said. "[Residents] don't have to stress about where and when they could see a doctor. It's a great way for these people, who don't know where to go or who are scared to go, to get assistance."
San Bernardino resident Cesar Villanueva said he's glad Tzu Chi provides health support for low income residents.
"I think it's great," Villanueva said. "People helping out and doing stuff like this is what this city needs. Medical and dental is not cheap."