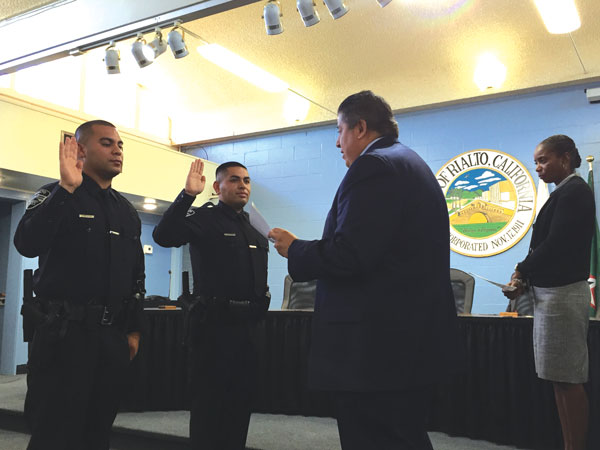 Two new officers have joined the Rialto police force.
Steve Hernandez and Victor Gutierrez were sworn-in Monday at the city council chambers by Rialto Police Chief Randy De Anda.
The two graduated from San Bernardino Valley College's Extended Police Academy Class 33 Oct. 7.
Both officers were hired within the department with Hernandez having a 14 year history with Rialto PD and Gutierrez becoming involved with the force since June.
"It's been a childhood dream of mine and it's finally come true," Hernandez said of becoming a police officer. "It's surreal."
He first started with the department as a police cadet then was promoted to law enforcement technician. Hernandez plans to move his way up in rank with the department.
Gutierrez, who is also driven to work his way up, said he was "excited about getting his career going." He aspires to work as a School Resource Officer and work in Scat and the department's narcotics division.
De Anda addressed the two new officers in front of family, friends and new colleagues, and said he was proud to be hiring within, but even more proud of having both on board.
"I'm very proud of both you," he said. "…You have a very long career ahead of you. Always respect one another and respect the badge."