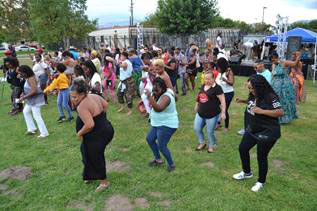 More than 700 people of all ages, enjoyed the entertainment and down home fun presented by Akoma Unity Center at the 1st Annual Sunday Jazz in the Park on Sunday, September 30,  hosted by Akoma Unity Center with sponsorship support by fellow dedicated community organizations: American Health Coalition, C.O.P.E, Del Vallejo Middle School, Empire Management, Image Source USA, Plan B Printing, and Sacred Sistahs. Jazz in the Park unified and reignited a sense of community to over five generations on the West side of San Bernardino. Families enjoyed an evening full of joy, laughter, and love of good music. While continuing the legacy of Dr. Anne Shirrells.
"The goal of this event was to deliver a sophisticated, family oriented community event that brought over five generations out to enjoy," Jennifer Xicara, Operations Manager at Akoma Unity Center, explained. The event transformed Anne Shirrells Park into an oasis of premier music, election awareness, food, and fun.

Jim Tickemyer, Director, Parks, Recreation & Community Services stated "Akoma Unity Center did a great job. Seeing the community come together to just kick back and enjoy themselves was a great way to start the week. Please extend my gratitude to all of Akoma. Thank you for your vision and commitment to seeing it through to fruition."
The stellar line up included genres for every jazz lover featuring: Inland Empire's native Amore the Songstress, who gave vibes of the amazing Anita Baker and Jill Scott intertwined in one; Johnny Meza and Company, whose original song "Dirty Martini" hit number 23 on the Billboard Smooth Jazz charts; and the closing performances by Gee Mack, a legendary guitar player and The Hottest Cats featuring Asia Raye. When musical groups were not on stage, DJ Wen provided old school music that inspired everyone to get up and dance.
Akoma Unity Center is a 501 C(3) Non-Profit organization committed to providing children with high quality, no-cost afterschool structured recreation, and development programs in a safe and supervised environment.
If you would like to learn more information about Akoma Unity Center, please visit our website at http://akomaunitycenter.org or call (909) 217-7956.