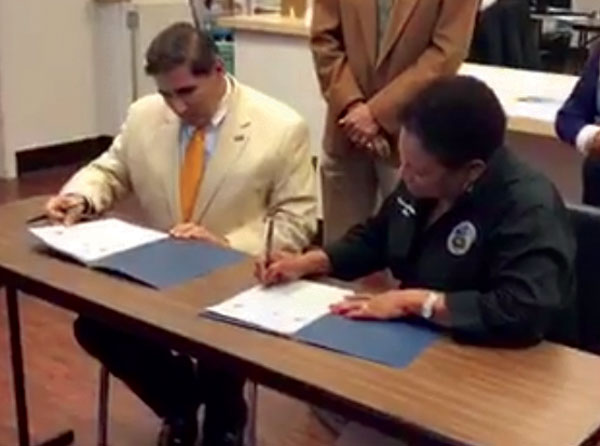 The city of Rialto and the San Bernardino Community College District (SBCCD) have partnered to offer, for the first time, a weekend satellite course in Water Supply Technology off-campus at the city's Resource Learning Center, 141 S. Riverside Ave.
Instruction will be conducted by San Bernardino Valley College professors who are also water industry professionals. Classes are 8 weeks long and will take place Thursday, Friday and Saturday evenings beginning next Thursday, Mar. 22.

"It takes the right group of people who share a vision of bringing education to a community," said SBCCD Chancellor Bruce Baron.
This collaboration was a three-year endeavor with the goal of bringing qualified entry-level individuals to fill in-demand positions in the water industry.
According to SBVC Faculty Chair Melita Caldwell-Betties, the passage of the Clean Water Act in 1972 spurred a mass entrance of employment into water treatment, but with Baby Boomers retiring, a mass exodus of knowledge is leaving the industry nationwide.
"The goal is to bring a qualified knowledge pool at entry level, at least, to substitute for the leadership vacuum," said Caldwell-Betties. "We want students to become industry certified, qualified for internships, or go on to college."
Mayor Deborah Robertson expressed her enthusiasm for this new opportunity available to all Inland residents. "There are so many career opportunities in the water industry which has become so advanced in technology," she said.
Salaries for entry-level positions generally range between $55,000-$83,000.
The course will cover disciplines in water and wastewater treatment operations, wastewater collection, water distribution and water use efficiency.
For those interested in enrolling in the course, please visit the SBVC website at www.valleycollege.edu to register as a student in order to access the Web Advisor from where the Water Supply Technology course can be selected.
"This is another step where we are able to provide opportunities for our students," said San Bernardino Community College District Board Vice President Gloria Macias Harrison. "By offering evening and weekend classes we're able to serve those who are employed."