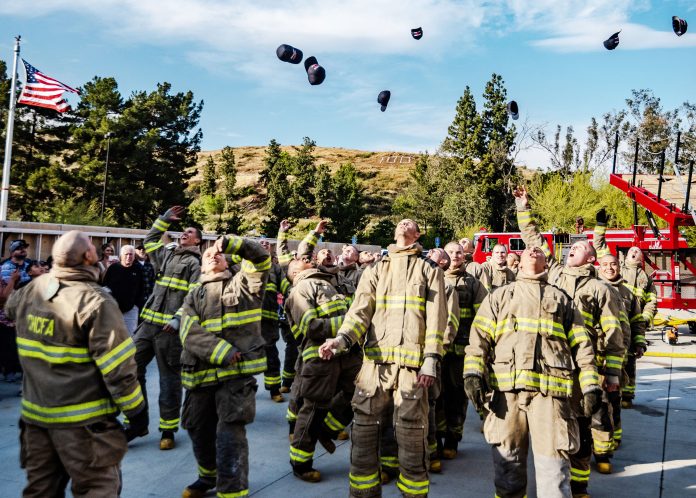 Crafton Hills College (CHC) graduated its 100th Fire Academy Class on Saturday, May 11th at 4 p.m. in the Public Safety & Allied Building. The cadets also performed skills they learned in the academy for the crowd of family and guests.
The 25 graduates are Matthew Alexander (Lake Arrowhead), Canyon Balders (Lake Arrowhead), Jesse Beem (Riverside), Blake Bryson (Riverside), Grant Dahler (Blue Jay), Caleb DeJong (Yucaipa), Steven Fortier (Yucaipa), Conor Frasher (Redlands), Saul Gallardo (Corona), Adrian Garcia (Yucaipa), Blake Golden (Rancho Cucamonga), Jason Hendrickson (Highland), Trent Houser (Calimesa), Luigi Leon (San Bernardino), Jeremiah Lucas (San Bernardino), John Quintero (Banning), Nathan Rennie (Rialto), Alex Rodriguez (Colton), Kevin Sahawneh (Rancho Cucamonga), Giovanni Salazar (San Bernardino), Cristian Salina (San Juan Capistrano), Keoni Sitar (Rancho Cucamonga), Daniel Solario (Crestline), Matt Vega (Yucaipa), and Daniel Vollkommer (Highland).

Cadets develop the skills required for Firefighter I Certification including teamwork, positive attitudes, and public service commitment. The Firefighter I Basic Training Academy is approved by the California State Fire Marshal's Office as an accredited Regional Training Center. In conjunction with CAL FIRE, these graduates also earned a CAL FIRE Basic Wildland Fire Fighting Certification.