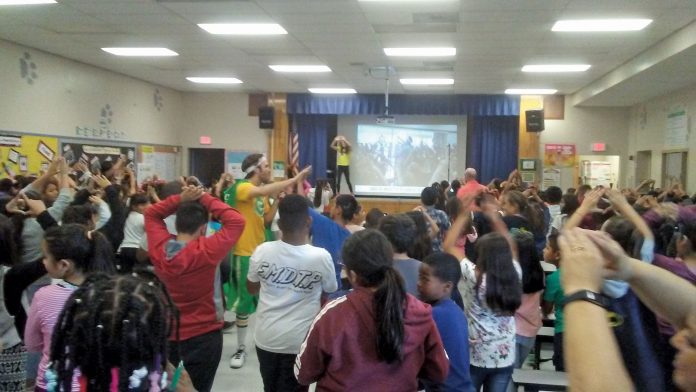 The delivery: fun, energetic and captivating, the message: powerful and eagerly embraced. Mr. Eco, an environmental rap superhero, AKA Brett Edwards, inspires young people to do their share in being good stewards of the world, and asserts that their contributions will have a positive impact on the global environment.
Edwards performed at 12 Rialto elementary schools over the past two weeks, spreading the message of environmental consciousness and responsibility. On Friday, Sept. 22 Casey Elementary School students were instantly mesmerized by the dynamic and lively hip hop music and rap that boomed through its Multi-Use Room.

Each song delivered a distinct message – to recycle, reduce litter and waste to the oceans, and to implement a business waste reduction program.
"This is the last plastic straw, we've reached the sipping point," rang the lyrics in a song titled Straw Wars that emphasizes the need to eliminate single use packaging and straws. "Restaurants need an offer policy, beaches need an off us policy."
Music videos of Edwards with his two young nephews and 2-year-old niece battling plastic bag monsters and sparring with lightsabers are projected on stage in concert with his performance in front of Casey's third, fourth and fifth grade students.
"I believe the biggest impact in the world will come from the youngest members," Edwards said. "They can influence their family and friends, and make a difference with the choices they make."
A few of Edwards' original songs portray a villainous Litter Bug that causes ocean pollution, a Plastic Bag Monster and its fatal effects on wild life, and the heroic Recycle Robot deliver serious lessons that Edwards believes resound with the younger population.
Edwards told students about his experience sailing from Bermuda to Iceland studying plastic pollution, and shared photos of dead marine life that had ingested plastic.
"You are the superheroes," he emphasized to the young crowd. "As Ecoheroes we can make an impact by not letting this happen," referring to the image of plastic bags found in the stomach of a dead whale. "Together our actions do add up to make a difference," Edwards told his young audience in conclusion.
Casey Elementary School Principal Johanna Cuellar welcomed this assembly as it is in accord with her ongoing efforts of transforming the school into an eco-friendly institution.
Casey was the recipient of the 2017 California Department of Education State Award for Green Schools – Silver Award (Rialto Unified School District was the only district in the county to earn the Gold Award).
Edwards' presentation happened to coincide with the delivery of recycling bins for classrooms that morning.
"We strive to bring more awareness to our students, and it's not just about content standards, but the world and of each other – to make a better world for everyone," Cuellar said. "We are continuing to promote wellness, reduce environmental impact and provide education for students to be eco-conscious."
Edwards, a graduate of Cal Poly San Luis Obispo, trained as a Climate Reality leader with Al Gore; is a GRAMMY voting member and balloted artist; collaborated with youth from 6 countries for the Renewable Rap album; has over 1.2 million YouTube views. Funding is derived from CalRecycle grants used for the purpose of educating and promoting recycling and litter reduction.
To learn more or to schedule an interview with Mr. Eco please contact: Cody Snell – Press and Social Media Manager at (503) 409-4834; Email: codysnell88@gmail.com; YouTube: www.youtube.com/user/MrEcoOfficial.
---
Join our newsletter for weekly wrap-ups of our community coverage, exclusive advertising opportunities and local business specials!