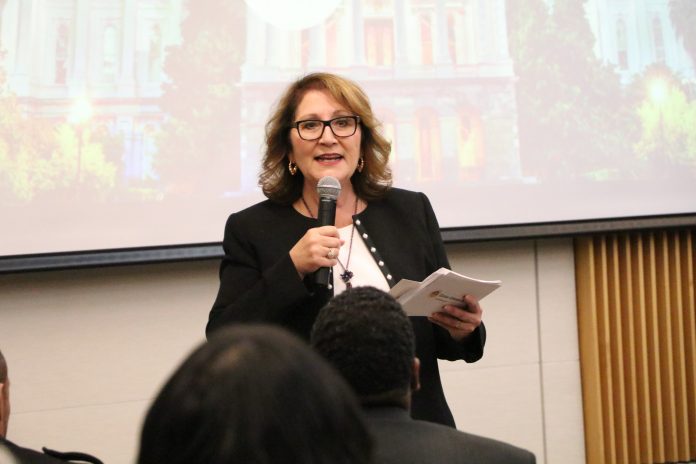 Assemblymember Eloise Reyes, who represents the 47th California Assembly District, told constituents on Tuesday that she will continue to fight for more resources and opportunities to improve their quality of life.
"For too long we've been overlooked," Reyes said to over one hundred residents and local officials during her "State of the 47th" address at San Bernardino Valley College. "We have hopes here too."
Reyes, 60, was elected by voters in Bloomington, Colton, Fontana, Grand Terrace, Muscoy, Rialto, and San Bernardino to replace Cheryl Brown in last year's general election.
In her first year Reyes (D-Grand Terrace) introduced 19 bills, of which eight were passed. She championed workers' rights, clean air, infrastructure improvements, and public education to name a few.
Assembly Bill 44 will provide nurse care managers to employees injured during acts of terrorism. It also removes the utilization review process, which requires a secondary physician to approve medical treatment plans already prescribed by a patient's primary physician. Reyes argued utilization review creates unnecessary delays that cause hardship and hinders recovery.
Assembly Bill 523 will ensure 25 percent of Electric Program Investment Charge (EPIC) funds be allocated for clean energy projects in disadvantaged communities.
In addition to passing legislation, Reyes managed to secure funding for a $500,000 firetruck for Colton, $5 million for bilingual education training for teachers, and $13 million to make renovations to the Mt. Vernon Avenue bridge in San Bernardino. She also organized several citizenship fairs and a DACA renewal workshop to help the immigrant community.
"Much has been accomplished, but it's been done with your help," Reyes said. "With every success we've achieved together, it reveals how much more needs to be done."
Miguel Rivera, 24, of San Bernardino believes Reyes' actions in Sacramento will spur improvements and lift community spirits in the long term.
"I'm glad someone who maintains regular contact with the community is representing us," Rivera said. "I plan on continuing to support her."