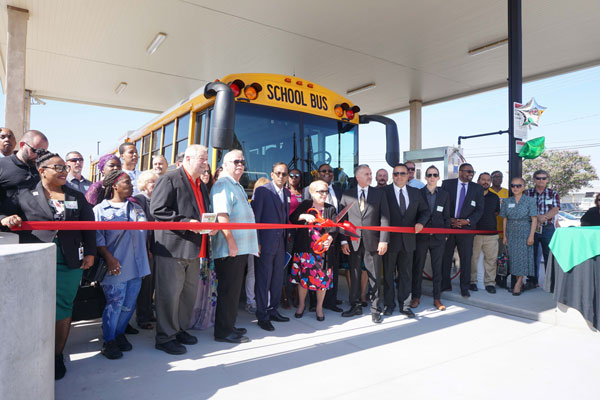 The Rialto Unified School District took measures to further reduce its carbon footprint with the official grand opening of its Compressed Natural Gas (CNG) station on Monday morning to an audience of area dignitaries, engineers, RUSD school board members and staff. The only K-12 school in Southern California to own and operate a CNG station, RUSD has opened it up to the public, an unprecedented move.
There is currently a fleet of 38 CNG buses, with an additional 10 to be added in the future. According to Mohammad Islam, Associate Superintendent, Business Services, RUSD will see a significant decrease in its annual fuel cost at an estimated half-a-million, while generating revenue of over $1 million through the self-serve pumps. Funding for the $4.5 million station was funded through two grants sources.

"What truly makes this Board of Education, and me, happy is that the reductions in smoke, diesel particulates, and noise will benefit our hard working bus drivers and our community," RUSD Superintendent Dr. Cuauhtémoc Avila addressed those in attendance.  "Staff members and parents will also continue to observe the reduction of black diesel smoke entering their school sites and enjoy clean-fuel buses."
The Board of Education authorized the implementation of the CNG station five years ago, and RUSD embarked on a partnership with the California Energy Commission (CEC), Mobile Source Air Pollution Reduction Review Committee (MSRC), and the South Coast Air Quality Management District (SCAQMD) to bring this project to fruition.
RUSD has made environmental consciousness a priority evidenced through its district-wide solar panels, fruit and vegetable gardens at 19 elementary schools, and promoting environmental literacy through its science curriculum and water conservation.
The CNG station is located at 261 S. Lilac Ave. and is open to the public 24 hours a day, everyday.