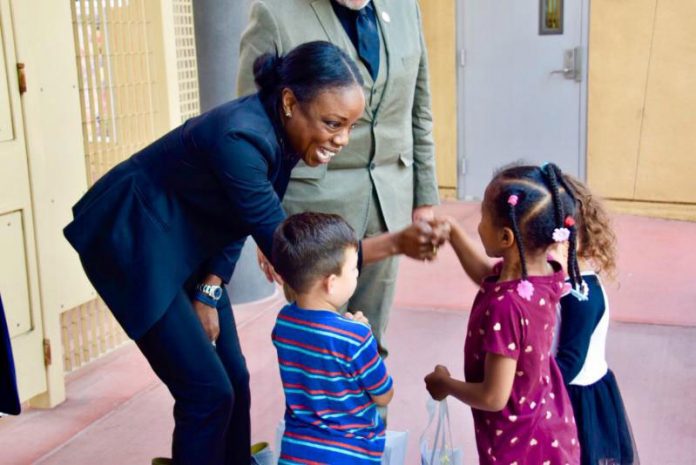 California's first Surgeon General, Dr. Nadine Burke Harris, visited San Bernardino Valley College's (SBVC) Child Development Center on Monday. The visit was her last stop in a statewide listening tour to raise awareness on how adverse childhood experiences (ACEs), and toxic stress influences health outcomes.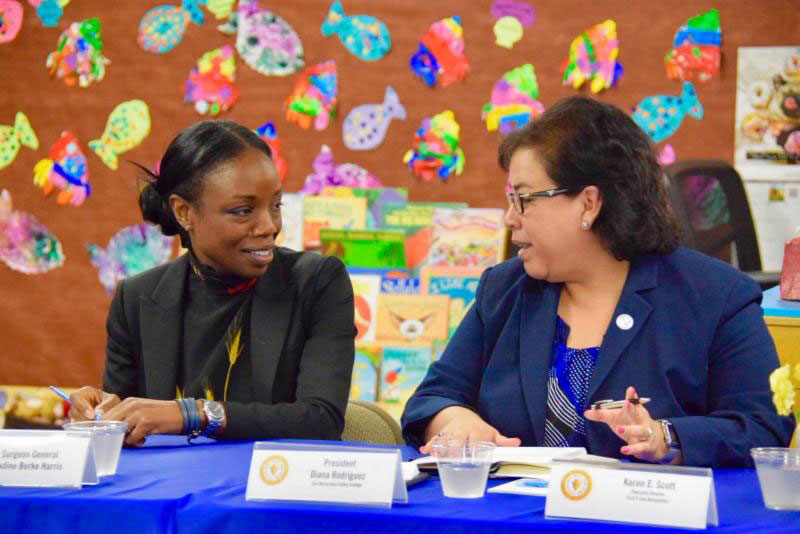 Burke Harris participated in a roundtable discussion moderated by SBVC President Diana Z. Rodriguez. Public health officials and community leaders discussed barriers and solutions to help cut the current rate of 63.5 percent of children experiencing ACEs in half.

"One of the things I keep hearing over and over again is our need for mental health services across the state and our need to integrate services," Burke Harris said.
"Right now, there's a lot of splitting of the way that we are caring for people. On the one hand there's your physical health, and on the other, it's your mental health. It feels like they're separate, but that's not what the body does. In the body, it's all one," she explained.
The convening included San Bernardino Valley College faculty and staff, officials from Children's Fund, First 5 San Bernardino, Loma Linda University, San Bernardino County Department of Behavioral Health, Young Women's Empowerment Foundation, among others.
Autumn Blackburn, a student representative on the San Bernardino Community College District Board of Trustees, and alumna of SBVC's drug and alcohol studies certificate program advocated for at-risk youth.
"My friends and I realized that there is a need for state support on college campuses to help formerly incarcerated students, particularly if they have children," she said. "Often times, their kids become part of their recovery and they bring them to campus programs to show them that mom and dad are doing better."
In response, Blackburn and a group of students founded a nonprofit, Student Jibe, to assist people coming out of the correctional system transition into higher education and career training.
Burke Harris underscored the need to lift up the innovative work that's happening in communities around the state.
"Whether you're a police officer and you're learning and practicing trauma-informed community engagement; or whether you are an educator and you're learning about and implementing trauma-informed educational practices, every single one of us has a role to play." Burke Harris explained.
For Mark Merjil, director of SBVC's Child Development Center, the visit from California's first-ever surgeon general was met with optimism.
"She has the opportunity to create a platform in which conversation occurs where young children have a voice," said Merjil.
Burke Harris is a pediatrician and was appointed by Governor Gavin Newsom on Jan. 21 to advise him and the state secretary of health and human services. The governor's budget proposal, announced in January, earmarks over $200 million to focus on developmental screenings, supporting home-visiting initiatives and improving infant and maternal health.
"It's an old saying, 'an ounce of prevention is worth a pound of cure,'" Burke Harris shared with the roundtable. "When we practice early detection and early interventions, we see better health outcomes."