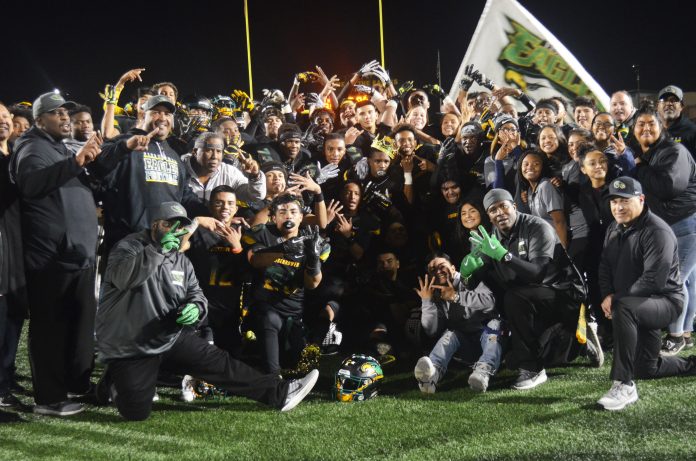 On a cold night in Rialto the Eisenhower Eagles prepared to face off against the Highland Bulldogs from Palmdale, CA. Both teams came into the match 13-0 yet Highland seemed to have a statistical edge in every category leaving some Eagles fans nervous about the game's outcome.
Eisenhower lost the coin toss in the last two playoff games against Chaffey and El Rancho forcing them to play away instead of at home. Having the D10 CIF Final at home was a welcomed change from having to play away each week. The Eagles came out of their blowup tunnel with their signature tribal-style dance with yellow and green smoke swirling around them.
As the 1st quarter got underway you could tell the nerves were affecting the players as Highland scored first, but unable to complete their two-point conversion attempt. Instead of letting this get the Eagles down this early score by Highland propelled them to respond with a 3-yard touchdown run by #2 Joel Ayala followed by an extra point kick by female kicker Taylor Jackson, who would show nerves of steel as she made all attempted kicks – four in total.
This was an even bigger deal as Highland failed to complete an extra point or two-point conversion the entire game.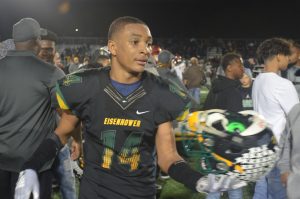 Eisenhower kept the foot down on the pedal and #15 Brian Jenkins tipped and intercepted a pass from Highland High Quarter back which led to a 29-yard touchdown pass to #14 Davyon "Special" Benton. Eisenhower would force one more turnover before the half with superstar player #11 Jordan Goodloe making the interception.
Eisenhower's defense would continue to pick off mistakes made by Highland with Davyon recovering a fumble in the 3rd quarter, and #10 Torren Ward with an interception in the 4th quarter.
Eisenhower finished off the night with a 35-18 victory over the Highland Bulldogs, bringing a CIF title to Rialto.
When asked how the players remained unaffected by Highland's season stats being better than Eisenhower's, Coach Alvin Brown answered, "We weren't worried about the stats, throwing the ball or tackling, our goal was to go 1-0 each week. Regardless of what they were doing we just concentrated on what we do best."
Eisenhower High School Principal Frank Camacho reacted to the victory, "It is great to be back as CIF champions. Coach Alvin Brown and his staff put in the work to make these athletes great, well-rounded student athletes, and he could not be prouder."
This isn't the end of the road for this team as they now head to Kaiser High School in Fontana on Saturday December 1st at 6 p.m. in a CIF State Regional Bowl Game. If Eisenhower wins Saturday they will be heading to Sacramento for the State Championship on December 15th.