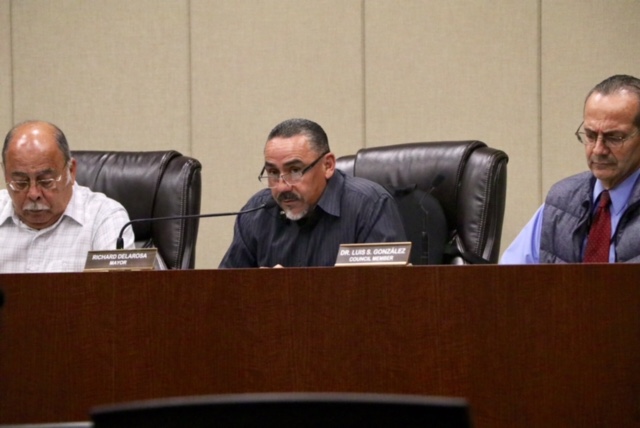 After initially voting to hold a special election to fill the vacant District 2 seat a few weeks ago, the Colton City Council decided to appoint Utility Commissioner Ernie Cisneros to the position in a 5-1 vote on Thursday September 14.
Councilman Frank Navarro suggested revisiting the issue during the September 5 meeting, opening up once again the possibility of appointing a resident to the District 2 seat vacated by Summer Zamora Jorrin in July.
All three candidates were present on Thursday afternoon to hear the Council's deliberation to rescind their original decision.
A large number of residents in attendance, including candidates Mike Razo and Frank Gonzales, left the council chambers bewildered and frustrated with the final result.
"It's apparent the majority of the council is fickle and does not stand for what they really believe," said Razo. "Their flip flopping, indifference and weak leadership is telling."
"I wasn't notified about this meeting," alleged Gonzales, accusing the city of a Brown Act violation. "This is just wrong."
The August 21 vote made by the Council resulted in a deadlock. Razo and Gonzales each received two votes in favor and three against, while the eventual appointee Cisneros received no votes.
Seeing that there was no consensus on either candidate, the Council voted 3-2 to hold a special election in April of 2018 to allow voters to decide.
The decision didn't sit well with Mayor Richard DeLaRosa, who was absent during the August 21 meeting. After reviewing the minutes from last month's meeting and speaking to candidates, DeLaRosa told the public last Thursday that it was imperative to fill the seat for the wellbeing of District 2 residents.
"If we do not appoint someone, District 2 will be without representation," DeLaRosa retorted. "I believe we have candidates that are capable."
DeLaRosa then motioned to appoint Cisneros to the Council–receiving support from Councilmembers Navarro, Dr. Luis Gonzalez, Jack Woods, and Isaac Suchil. Mayor Pro Tem David Toro decided to support Gonzales because of his prior experience on the Council and expressed disapproval of the process.
"I was a little surprised for this to come back," Toro said. "Two people are going to change their vote, where they are not going to choose who is the best candidate, but choose not to go to a special election out of fear of who will win."
Despite being disappointed with the result, Razo said he will throw his support behind Cisneros.
"As a resident, I'm glad knowing that District 2 now has a council member who I think I can work well with," explained Razo, who is chairman of the Utility Commission. "That communication and willingness to address and engage the residents is definitely something that has been lacking and non existent for quite some time now."
Cisneros was present during the meeting but was unavailable for comment due to administrative matters.
---
Join our newsletter for weekly wrap-ups of our community coverage, exclusive advertising opportunities and local business specials!