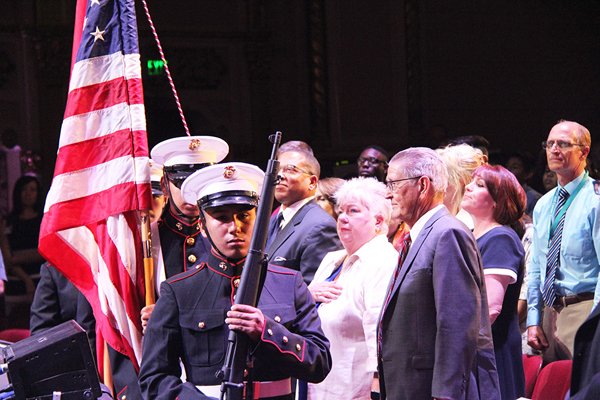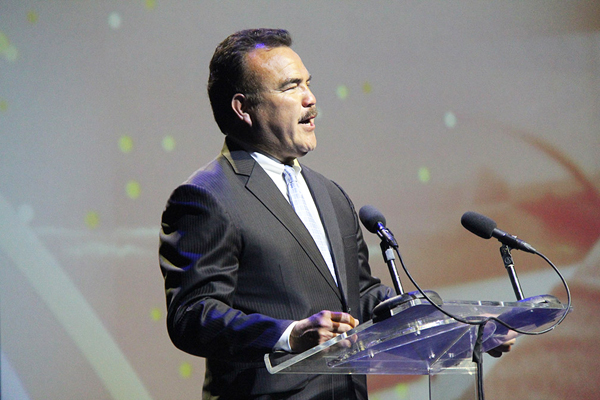 Touting a theme of how innovation and engagement are shaping public education across the region, San Bernardino County Superintendent Ted Alejandre delivered his fifth annual State of Education Address on Sept. 19.
The speech was held at the California Theatre of the Performing Arts before a large crowd of educators, elected officials, community stakeholders and students.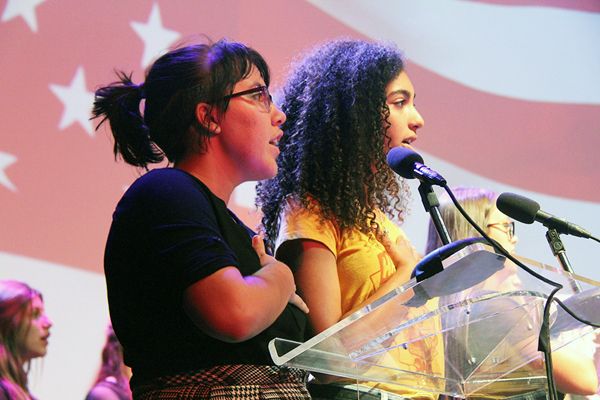 "We aspire to transform lives through education by inspiring engagement, connection, collaboration and innovation," Alejandre said. "Working in collaboration with school districts, other agencies, families and our community partners, we provide leadership, advocacy and services to ensure innovative and inspired educational practices."
Karen Scott, executive director of First 5 San Bernardino, introduced Alejandre and touted his background in being a champion for early literacy and learning programs across the region. Stephanie Houston, assistant superintendent of Innovation and Engagement for County Schools, made introductions of student performers and elected officials to start the event.
During his speech, Alejandre recognized the Countywide Vision, a collective impact approach initiated by county government where the educational needs of the 406,000 students who attend public schools in the county is a high priority in decision-making.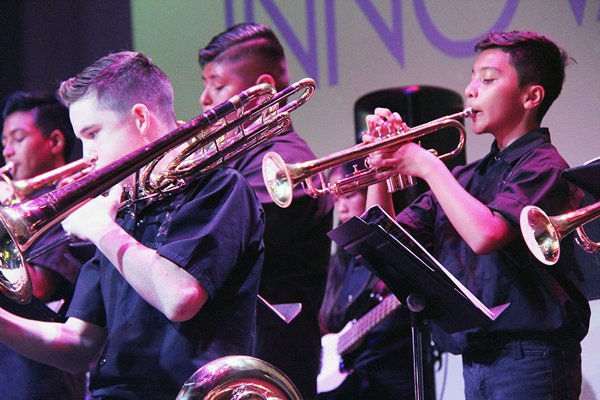 "We believe there is strength in unity and have built visible and deep-seated partnerships that align with our mission and beliefs and provide a framework for defining common purpose, cultivating strategic change and inspiring innovation," Alejandre said.
He showcased programs and initiatives that promote wellness and positive school culture; advance career technical education learning; statewide leadership and advocacy through California's Community Engagement Initiative, in which San Bernardino County Superintendent of Schools is a lead collaborator; and expanding equity for increased resiliency and community strength.
Alejandre also congratulated county high schools for helping to raise graduation rates above the statewide average for the first time since the California Department of Education established its statewide student identifier in 2009.
Seeking to innovate and engage students in relevant learning was a constant thread woven into Alejandre's address.
"We are fortunate to have district leaders and teachers throughout the county working with private sector entrepreneurs to spur innovation so learning is engaging and relevant," Alejandre said.
He cited Fontana Unified's "Moonshots" to push expectations and imaginations for students. He also recognized Colton High's TEDx community forum that drew worldwide attention to the community's efforts to promote mental health and wellness. With national recognition for handling environmental issues, Rialto Unified was the only school district in the state – and 1-of-14 nationally – to receive a Green Ribbon School District Sustainability Award from the U.S. Department of Education.
In his conclusion, Alejandre spoke of "boldness" and "pushing limits" in efforts to educate students. "We must pool our dreams and work collaboratively to push for transformative innovation in our schools now," he said. "We must inspire innovation on a global scale, lest our students be left behind."
Alejandre's address showcased several student performances and presentations. Those included:
The Beattie Middle School Jazz Band, under the direction of Curtis Allen Jr., which entertained the crowd prior to the start of the address;
Invocation by sophomore JhuMaani Chess of Cajon High;
The color guard representing Eisenhower High's Marine Junior Reserve Officer Training Corps program;
Pledge of Allegiance delivered by Cajon High School's champion Mock Trial team members Anna Smith and Cassandra Davis;
Yucca Valley High School's drumline and choir, which performed the National Anthem during patriotic observances;
Grand Terrace High's vocal ensemble, the Tri-Tones, under the direction of Anna DeLeon, which performed during the speech;
Alta Loma High's dance group, under the direction of Angela Tousley, which also performed during the event;
Beattie's Jazz Horn Trio of Asher Gano, Noah Nguyen and Isaiah Cazares, which closed out the student performances.