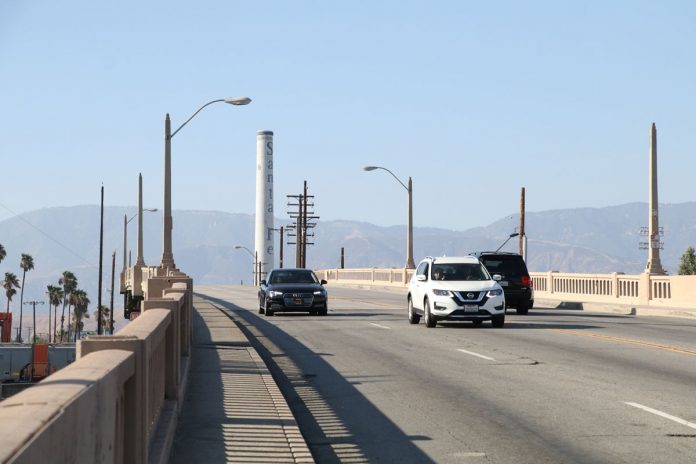 Promises have been made before to make improvements to Mt. Vernon Street bridge, but some San Bernardino residents and business owners say they'd have to "see it to believe it."
"It's been brought up a lot in recent years," opined Mitla Restaurant manager Steve Oquendo. "Yet, it's never been done."
San Bernardino County Transportation Authority officials have confirmed that they are currently in the planning stages of transforming the bridge from a cracking, crumbling overpass into a sturdy, reliable structure. They are receiving ample support from the California Department of Transportation (Caltrans), Burlington Northern Santa Fe, and state and local leaders to launch the project.
Construction is slated to begin in 2020, although state leaders are hoping to speed up the rebuilding process.
SBCTA officials say they are encouraging the community to address their questions and concerns to help them better understand how to move forward with reconstruction.
"We learn from residents to help guide our projects," expressed SBCTA Project Lead Paula Beauchamp. "We know how important this bridge is to the people of San Bernardino."
The Mt. Vernon Avenue viaduct, first opened in 1934, experiences many problems and poses a potential danger to motorists and pedestrians. It's considered an obsolete and deficient structure by Caltrans and has been closed several times due to structural cracking. The City of San Bernardino voted almost a decade ago to prohibit commercial vehicles from travelling through the viaduct.
Jenny Becerra, who lives in San Bernardino and works at the Esperanza Market on 5th Street, said she wasn't aware local leaders were focusing on fixing the bridge. However, she believes it's the right time to take action.
"Sometimes I'm afraid to drive over the bridge because it feels unstable and unsafe," Becerra explained. "I think fixing it will provide more security for drivers and residents walking through. It will show people that our leadership does care about our problems."
Leaders will have to spend $135 million to make improvements to the bridge, Beauchamp confirmed. About $95 million will be provided by the state, $30 million by BNSF, and about $10 million by the City of San Bernardino.
Beauchamp confirmed her agency intends to maintain the bridge's historic features. Yet, the bridge will be lengthened and widened, which may have an impact on surrounding businesses and residents.
Despite the inconvenience the bridge's reconstruction may bring, Assemblywoman Eloise Gomez Reyes (D-Grand Terrace) believes it's well worth it. She's worked with Governor Jerry Brown and Assemblyman Jay Obernolte (R-Big Bear) to expedite the viaduct's improvements and is confident she has the support of city and county transportation officials.
"The community and businesses that occupy the Mt. Vernon area cannot afford to be cut off from the rest of San Bernardino," Reyes said. "At this pace the bridge will not be usable by the time construction starts."
Oquendo believes the bridge's temporary closing will have a negative impact on his business.
"Seventy five to eighty percent of our customers are coming south from Colton," explained Oquendo. "The bridge is their connection to the westside. If you put an obstacle in front of someone, they're going to go somewhere else. It's just human nature."
Nevertheless, Oquendo believes the improvement of the bridge will help boost morale on the westside.
"I think it's needed," he said. "Once it's done it will benefit our community."