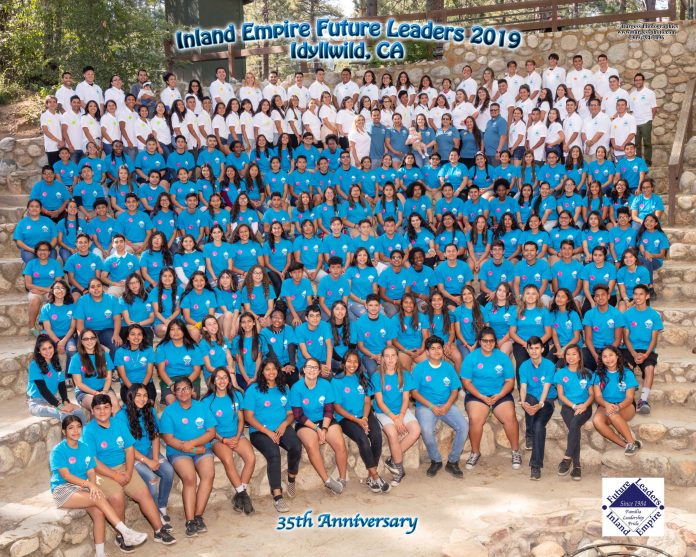 Over 130 Latino eighth- and ninth-grade students from schools representing San Bernardino, Riverside, Orange and Los Angeles counties participated in the 35thth annual Inland Empire Future Leaders Program (IEFLP). This year's program was held at the Idyllwild Pines Camp in Idyllwild from June 16 to June 21.
The program's goals are to motivate students to graduate from high school, strive for academic excellence, become leaders in school, and community, and eventually earn a college degree. In addition, participants received leadership training, financial literacy information and communication skills which were emphasized in combination with cultural pride workshops, said Dr. R.C. Heredia, alumnus of Colton High School, UCLA and Pepperdine Univ. and current professor of psychology at East Los Angeles College and chair of the IEFLP Board of Directors.
This year's conference was dedicated to Dr. Tom M. Rivera, associate dean emeritus of Undergraduate Studies at Cal State San Bernardino and Director Emeritus of the IEFLP.
According to recent research, parents of Latino high school students want their students to succeed and they want role models in their communities to help their children be successful and go to college. This is exactly the mission of the IEFLP said Dr. Heredia.
The 2019 recipient of the IEFL Art Arzola Scholarship ($1500) was Mariah Grajeda, 2019 valedictorian of Middle College High School and current student at UCLA. Grajeda volunteered as a staff member of the IEFLP along with 67 of her peers.
Conference participant from the 1988 IEFL Conference, Rodolfo Monterrosa, public defender and immigration attorney at Monterrosa Law, delivered the keynote address to the students on Sunday, June 16th. "Rudy" is a native of Bloomington where he was the valedictorian of the class of 1991. He graduated from Stanford University and Notre Dame Law School.
"Inland Empire Future Leaders Program has shaped me into the leader I am today and has helped me push towards accomplishing my biggest goals, as well as continually making me feel proud of my culture!" said Jennifer Trujillo, conference delegate in 2015, a native of Highland, CA.
2009 delegate and current conference co-director Arturo Rodriguez from Bloomington, said, "The program encouraged me to follow my dreams and to never give up. It sparked my interest in becoming a public servant and serving the Latino community in any way, shape, or form. This program gave me the necessary tools to become a leader in my community and strive for change."
Dr. R.C. Heredia, a 1992 conference delegate and current chair of the IEFLP Board of Directors, said, "Having experienced this program as a high school student, I learned the leadership tools that have helped me to succeed in high school, at UCLA, in graduate school and in my career. The confidence in myself and the network that I developed from my experiences with IEFLP were instrumental for me in earning a doctorate degree. It is one of my life goals to continue developing leaders in our community."
Over the past 35 years Inland Empire Future Leaders has helped many of its delegates attend and graduate from: Harvard, Notre Dame, Pepperdine, Stanford, UCLA, USC, UCR, UCSB, UCSD, CSUSB and the list goes on and on. Many of the conference's delegates have gone on to become: lawyers, teachers, doctors, professors, filmmakers, journalists and even a congressman (Congressmen Pete Aguilar and Dr. Raul Ruiz)!
Over 4,400 students have participated in the program, which commenced in 1985. The program's popularity and effectiveness among students, parents, educators, and community supporters can be shown from surveys taken every year since 1990, which indicate that 99 percent of student participants graduate from high school and 90 percent attend college, Dr. Rivera said.
Our staff of over 65 individuals is made up entirely of volunteers added Dr. Heredia. Volunteers from area school districts and community service organizations, such as the Kiwanis Club of Greater San Bernardino, whose members used their professional expertise to encourage students to participate in community service projects, joined with 65 former Future Leaders to implement this year's program.
Funding for the program is provided through individuals, community groups, businesses, foundations, school districts, and government agencies.