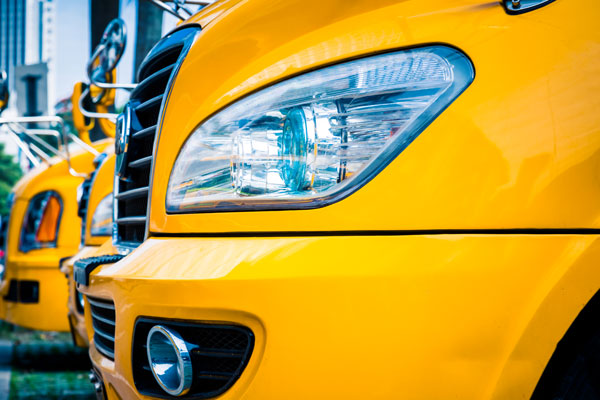 The Kindness Bus will be hitting the streets once again, bringing a message of kindness, inclusion and acceptance to the communities served by the Colton Joint Unified School District.
The Kindness Bus, which was the brainchild of CJUSD Director of Transportation Erick Richardson, serves as a rolling billboard for the CJUSD Kindness Campaign.
The bus was decorated by Bloomington High School art students in Sam Gallo's class, who also came up with this year's theme: Be Happy. Be Kind.
The bus will be visiting several schools on Wednesday, October 25, which is Unity Day – a day focused on anti-Bullying and positive behaviors. Other stops will be made at sites throughout October, which is National Bullying Prevention Month.
CJUSD is focusing on kindness in an effort to prevent bullying by reinforcing positive behaviors, as reflected in the district's Positive Behavioral Interventions and Supports (PBIS) framework. It is hoped that the message of the Kindness Bus will stay with students and staff throughout the year.
"Our goal is to spread kindness throughout the entire community and to remind our students and community that BEING NICE MATTERS" Richardson noted.
On October 25, the bus will first stop at the CJUSD District Office, 1212 Valencia Drive at 7:30 AM, and will depart at 7:50 AM visiting schools in the order below:
• First Stop – Grant Elementary School • Second Stop – Birney Elementary School • Third Stop – Washington High School • Fourth Stop – Joe Baca Middle School • Fifth Stop – Crestmore Elementary School • Sixth Stop – Sycamore Hills Elementary School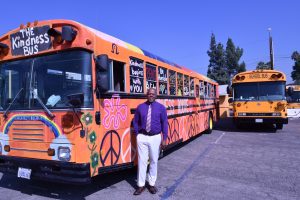 "As the Kindness Bus rolls through our neighborhoods, you can plainly see that it affects everyone," Richardson said. "The smiles on faces young and old is enough to know and feel that we are promoting positive behavior in our district. We want everyone to know that we do not accept bullying of any kind."
---
Join our newsletter for weekly wrap-ups of our community coverage, exclusive advertising opportunities and local business specials!