Locals donate thousands of diapers to Molina HOPE Diaper Drive
2 min read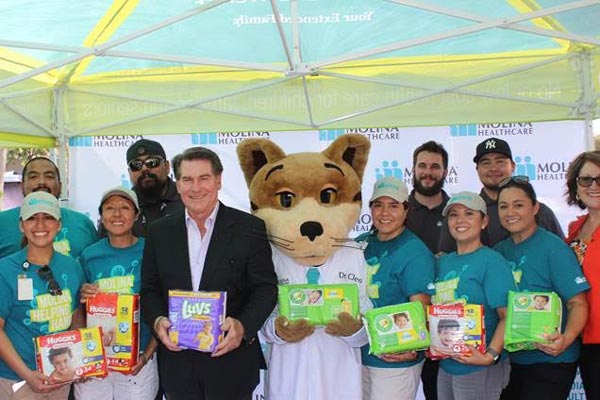 Thousands of diapers have been donated to four Inland Empire-based organizations thanks to the help of local residents and a healthcare agency.
Molina Healthcare of California held its first-ever Hope Diaper Drive June 21 – July 14, with community members jumping on board donating a total of 934 packs of infant diapers and adult briefs — a grand total of 26,140 diapers.
The items were recently distributed to Rose of Sharon in Victorville, Time for Change Foundation in San Bernardino, the Moreno Valley Community Assistance Program and the Moses-Schaffer Community Center in Perris.
"It's part of Molina's mission to serve and advocate for those who need help the most," said Ruthy Argumedo, associate vice president of Community Engagement for Molina Healthcare of California.
She went on to list the following "startling" facts:
Some of the poorest families in the U.S. have to spend 14 percent of their income — an average of $936 per child — on diapers each year.
Low-income families in America are forced to use less than they need, leading to health problems for baby and many more issues for the whole family, like choosing between buying diapers and paying for food, rent, or utilities like heat.
Meanwhile, up to an estimated one-third of those over 65 have urinary continence trouble. For people living on a fixed income, the expense of adult briefs can add up.
"We were honored to have been able to bring these resources to the Inland Empire," Argumedo said.
To culminate the drive, a family fun fest was held at the Food 4 Less in Colton, where participants received complimentary tacos and got to meet and take photos with Dodgers legend Steve Garvey and popular local radio personalities DJ Evelyn Erives from KGGI-FM 99.1 and Manny from KIIS-FM 102.7.
The event was held in partnership with Child Care Resource Center, Community Action Partnership, San Bernardino County Superintendent of Schools, iHeartRadio, Hines Management, Norton Younglove and Arrowhead Regional Medical Center.