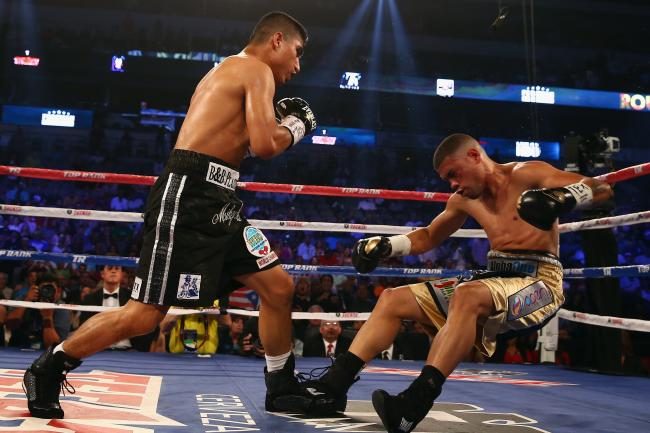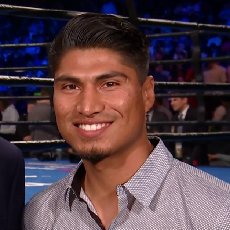 Outside the boxing ring In street clothes, Miguel Angel "Mikey" Garcia looks non-threatening as he prepares for the biggest fight of his boxing career. Inside the boxing ring, he looks very threatening. Garcia will put aside his good nature on January 28 when he will challenge for the World Boxing Council (WBC) lightweight championship.
The fight will be held at the MGM Grand, Las Vegas, pitting Garcia against undefeated reigning champion Dejan Zlaticanin of Montenegro. It will be part of a co-main event televised by Showtime that also features Leo Santa Cruz from Los Angeles challenging Scotland's Carl Frampton for the WBC bantamweight championship. Garcia's purse has not been announced but he is expected to earn considerably more than the reported $350,000 he received for his last fight.
Garcia, 29, carries himself much larger than his actual size of 5'7″ and 135 pounds. His size and long reach have led him to a 35-0 record including 29 by knockout. He downplays the idea that a win against the rugged champion will include him on an exclusive list with former WBC lightweight champs like Julio Caesar Chavez, Roberto Duran, Floyd Mayweather, Alexis Arguello, and Manny Paquiao. Before his recent 18 month layoff due to contract problems, Garcia held the World Boxing Organization championship in the featherweight and super featherweight divisions. Although Garcia appreciates all world championships equally, the WBC championship is considered a marquee crown.
"I don't think about stuff like which championship is better and who once owned them," said Garcia over the phone from his training camp in Riverside. "It's about the boxer and not about the name of the title. All championships are good. Lot's of greats have held titles. It's not about being great. It's about the people I get to reach out to."
This will be Garcia's only second fight in three years. He was kept out of action until his lawsuit against Top Rank Promotions was determined. Garcia's settlement finally got him free from a binding contract. The case was based on the Muhammad Ali Boxing Reform Act designed to protect boxers from unethical business practices. Garcia has remained active in movements to protect boxers from a long history of abuse.
Garcia did not pick an easy opponent to re-establish himself. The 32-year-old Zlaticanin owns a 22-0 record with 15 knockouts. Because of his powerful left-handed stance, unorthodox style and decent defense, Zlaticanin has a hard time finding challengers. Thus far, Zlaticanin and Garcia have stayed away from the typical pre-fight trash talk. Zlaticanin has simply told reporters that he will knockout Garcia. Either way it is doubtful the fight will go the 12-round distance.
By viewing the 5-foot-4 Zlaticanin's past fights, it shows that he keeps the same style. He comes out fast, moves straight forward, and throws primarily left-handed punches from every angle. He does have a capable right-hand and seems willing to throw either in an illegal fashion. Garcia said he doesn't watch film of his opponents. "All I know is that he's an undefeated world champion who is at a high right now." He feels the key to victory is: "Being patient and technical." Garcia says he is a defensive fighter by nature.
Garcia claims to be taking nothing for granted. "I'm in much better shape than I was for my last fight. I'm ready in case he changes his strategy," said Garcia. "I want him to change because it will allow me to try new things." He explained that his father and brother formulate a game plan. "It's my job to follow the plan and take care of business. If plan A doesn't work. We have plan B and plan C." His father, Eduardo has trained a number of world champs, among them Mikey's older brother, Robert.
Mikey Garcia says as usual, he lives at his training camp in the months before a fight and visits his wife and children on weekends. The Garcia's live in their new home in Moreno Valley. He and his wife, Fatima grew up in Oxnard. His Team Garcia includes his nephew, Robert Garcia, Jr., his cook, Frank Silva, and "camp guru" Rafael Lopez. He described training sessions as a mix of long, early morning runs, swimming laps, and sparring 12 rounds. Garcia weighed 145 in early January but says he is on schedule to easily make the required 135 pound limit.
In addition to trying for a world title, Garcia will be attempting to become only the fourth boxer from the Inland Empire to win such a major championship. Paul Banke from Menifee last did it in 1990 when he held the WBC super bantamweight title. Corona native Manuel Ortiz owned the WBC bantamweight belt from 1947-50, and Albert "Chalky" Wright from Colton was the featherweight champ in 1941-42.
Garcia realizes that dealing with the media is part of his job. He is punctual to the minute and treats small blog sites the same as big city dailies. "It's nothing new. I like being accessible but I really don't think of myself as anyone special. Once in a while people come up and wish me luck, but so far, I just walk around like anyone else." He said that during a fight he can recognize the voices of his friends at ringside. He did say being recognized as a champion is more important than anything. Garcia thinks it's not always the most skilled athlete who becomes a world champion. "You must have discipline dedication, determination. Of course, you must have skill. More important you must have the hunger to succeed and a fire that burns within."