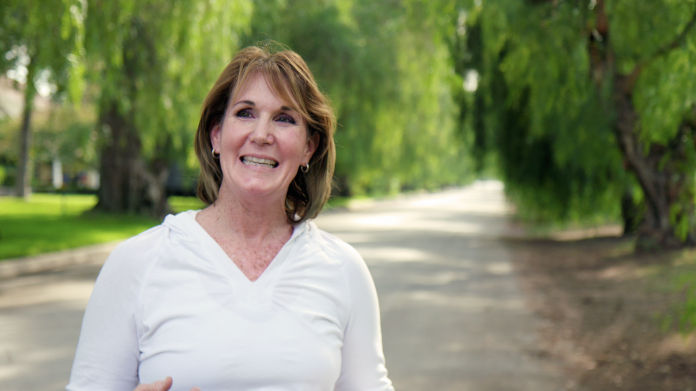 A documentary film–highlighting the story of 'prevailer' Julie Swann-Paez and first responder heroics during the Dec. 2 terrorist attack–debuted during a Q & A session at the Loma Linda University Church Tuesday.
The 45-minute film, produced by Loma Linda University Advancement Films, goes in depth into the experiences faced by law enforcement during the attack that killed 14 people and severely injured 22 others at the Inland Regional Center last year. Swann-Paez tells her story of overcoming physical and mental pain.
"I try not to let this define me. I don't want to be a victim or a survivor," Swann-Paez responded to Senior Pastor Randy Roberts' question on how the attack has changed her life. "I'm a prevailer. You can prevail over evil or prevail over obstacles."
Paez, who works as an environmental specialist for San Bernardino County, was shot multiple times in her pelvis–causing her to lose a lot of blood. According to Loma Linda Medical Center officials featured in the film, 35 medical professionals attended to her that day and saved Swann-Paez's life by conducting multiple blood transfusions.
Advancement Films' documentary team followed Swann-Paez's recovery for several months–providing in-depth coverage of her surgeries and family support.
As she explains in the film, Swann-Paez has adopted a strategy of self-care to overcome the adversity of recovering from the attack that took the lives of her colleagues. She's launched a project that focuses on spreading positivity across the city by attaching "stars of hope" around her neighborhood. The mother of three also likes to take walks to ease her mind.
"I hope when people pass by they see [the stars]," she said of the art project. "I hope it makes them think or gives them happy thoughts–things we take for granted, other people are praying for."
The crowd in attendance also got a first look at the emotions first responders were undergoing during and after the incident. Many including San Bernardino Police Lt. Mike Madden–the first officer on scene at the Inland Regional Center–spoke about the worries and fears they confronted and overcame.
"As a Lieutenant, I primarily perform administrative functions for the police department, so I wasn't wearing a vest [going into the the Inland Regional Center]," said Madden. "The first thing I did was apologize to my wife and kids when I got home. Apologized?? Why. Needs explaining I just apologized to them. We did a little crying, and decompressed a little bit."
Psychologists were sent in to consult with first responders in the aftermath of the attacks to help officers and paramedics deal with any trauma or stress they were experiencing.
"It's getting people in that mind frame that recovery is a process," explained County Behavioral Health Director Veronica Kelley. "There is no time frame for that. It takes however long it takes. The first thing is to be patient with yourself and have peer support."
Swann-Paez told the audience that she believes her future is bright. "I will be able to do the things I love," she said. "It will be OK. I don't want to ask for too much or take things for granted."
The film will be aired on KVCR at 7 p.m. on Dec. 14.