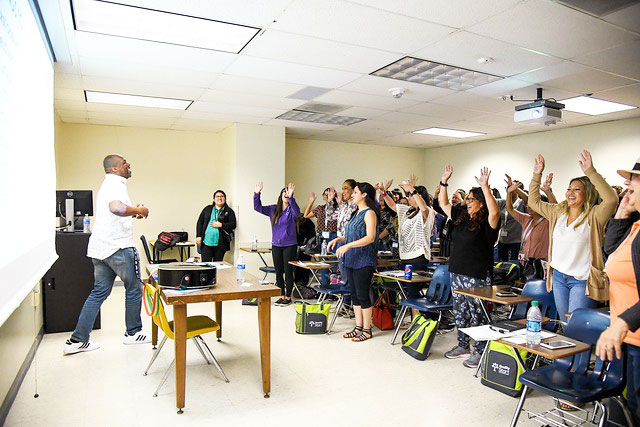 Quality Start San Bernardino County (QSSB) presented the 3rd Annual QSSB Early Childhood Conference, June 28-29th, 2019 at Cal State San Bernardino. This free two-day conference brought together over 500 early childhood educators from around the county to grow their skills, network with their peers, and receive much deserved encouragement and support.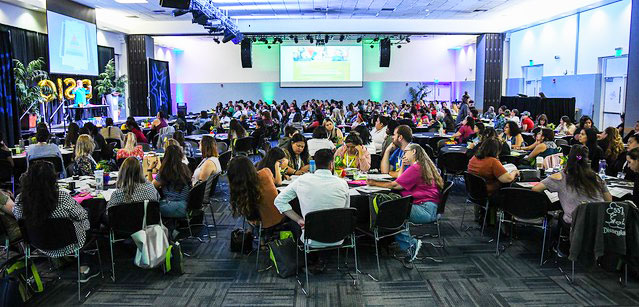 Over the past three years QSSB has supported 1,405 early childhood educators in 203 sites and reached over 9,000 children ages 0-5. Attendees represent a variety of site types enrolled in QSSB including: License- Exempt Family, Friend and Neighbor, Family Child Care, and Center-based. This conference is a culmination of the partnership between QSSB and educators to ensure the highest quality care is afforded to young children across the county.

This year the theme of the conference was "Let Your Sun Shine In," which heavily focused on inclusion, the importance of play, and mindfulness behavior for both the educator and child. Attendees were able to choose from 45 sessions that ranged from magical mindful storytelling, introduction to the outside classroom, supporting children's social and emotional development, and more. Participants were also able to interact with 25 vendors, including early education allies Lakeshore Learning and Discount School supply, various community resources, and purchase items to bolster their classrooms.
Each day featured a keynote speaker with extensive experience in early education. Saturday's Sharron Krull, consultant and author, focused on the importance of self-care for educators; while Friday's Julie Kurtz, consultant, author, and therapist, stressed the importance of trauma informed care and importance of the role educators play in their children's lives.
"Fifty percent of children, according to the American Psychological Association, have experienced trauma in the United States alone. That means that it is a matter of life and death that we learn strategies to build resilience and heal." Julie Kurtz, M.S, LMFT.
Not only were these classes beneficial by topic, but every participant received a certificate to document their hours of participation. As a Quality Rating and Improvement System, QSSB sites are rated according to state mandated criteria, including continuing education of staff. In support, QSSB offers year round workshops and trainings and the conference has quickly grown to be the most anticipated event.
"Professional development is an area of strong focus in the QSSB program for a number of reasons. It enhances participants overall rating on the California Matrix, teaches best practices, and enables educators to grow their quality." Dominique Metoyer, QSSB Professional Development Coach.
QSSB is designed to help child care programs and preschools provide the highest quality early learning experiences. This conference is one of the many ways, QSSB elevates and enhances the standard of care for our youngest learners. For more information about the program and how to get involved email info@qualitystartsbc.org, or contact 909.384.8032.