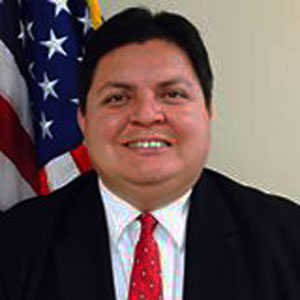 The Board of Directors of the West Valley Water District (District) is pleased to announce the appointment of Rafael Trujillo to the Board, filling a spot vacated by retiring Board Member Alan G. Dyer.
Mr. Trujillo brings a wealth of experience to the Board, possessing more than 15 years of experience serving the local community and having previously served on the District Board of Directors (Board) in 2015. He currently serves as a liaison between the community and Congresswoman Norma Torres (CA-35) on issues of significance for the district. Mr. Trujillo also worked with Congresswoman Torres when she was in the State Senate and State Assembly and served as a Public Policy Advocate for the First 5 Children and Families Commission.
"Rafael Trujillo will be a tremendous addition to the Board of Directors," said Board President Dr. Clifford O. Young, "He brings a great energy to the Board and clearly demonstrates his commitment to ensuring that the West Valley Water District provides premier customer service and high quality water at reasonable rates."
Board Vice President Linda Gonzalez echoed the excitement over Mr. Trujillo's appointment saying, "he has spent a decade and a half seeking to improve the lives of the residents of our area and truly understands their needs. I look forward to working alongside him to serve our community."
Rafael Trujillo was sworn in on August 1, 2016 and immediately began his term of service. As Mr. Dyer retired in the first half of his term, Mr. Trujillo will hold office until the next general district election in November 2017. At that time, he is eligible to run for the second half of the term.
WVWD serves the communities of Bloomington, Colton, Fontana, Rialto and parts of an unincorporated area in San Bernardino and a segment of the Jurupa Valley in Riverside County. Customers are encouraged to visit www.wvwd.org to learn more about ways to conserve, access rebate programs, and participate in conservation activities.