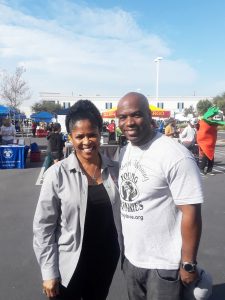 1,000 families received a free turkey and food boxes during the Thanksgiving Turkey Giveaway and Resource Fair co-hosted by Community Action Partnership of San Bernardino County and Young Visionaries Youth Leadership Academy on Saturday, Nov. 17 at the CAPSBC facility in San Bernardino.
The turkey giveaway was established 13 years ago by YVYLA, which handed out 100 turkeys at the time. CAPSBC joined the effort three years ago.
"We're able to serve more people more effectively and efficiently by partnering with other organizations," declared Patricia Nickols-Butler, CAPSBC President and CEO.
YVYLA Founder and CEO Terrance Stone was pleased with the turnout, "It's a blessing to be able to give back to the community, it's incredible; and we appreciate CAP helping us out."