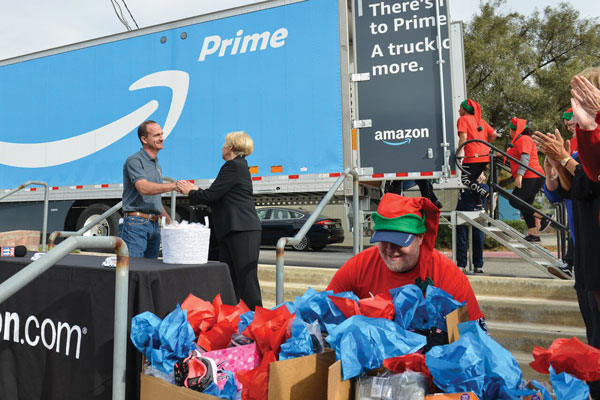 Pat Williams has 15,000 reasons to be thankful this holiday season.
On Monday, "elves" from Amazon fulfilled a wish list for the charity she founded in 2008, Angels' Closet Charities, by donating $15,000 worth of clothing and goods to Redlands East Valley High School. It is at REV where Williams' nonprofit houses clothing for middle- and-high school students in need in Redlands, San Bernardino and surrounding communities.

Since the start of the 2016-17 school year, Angels' Closet has served more than 200 students. Williams expects to clothe hundreds more, exceeding last year's totals.
Students served by the local organization and supporters from REV and Redlands Unified School District officials turned up to cheer Williams and Amazon on as the elves – also known as employees from the online retailer – unloaded their "sleigh" filled with goodies. The sleigh was actually a 53-foot truck embossed with Amazon logo's advertising its Prime campaign.
Amazon's stop in Redlands is one of 17 the store plans to make on its holiday giving tour, according to a news release.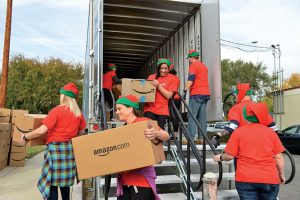 Earlier in the day Amazon made a stop at Edgemont Elementary School in Moreno Valley where they provided the school with everything from playground toys and school supplies to Fire tablets for every teacher and high-tech camera equipment to support the school's dream of creating an in-school news program.
Monday's presentation at REV happened shortly before 1 p.m. A nervous Williams greeted guests with hugs and repeated to each one, "This is such a blessing."
Amazon's gift came at a surprise to Williams who only told supporters to be at the school around 12:30 p.m.
She was caught off-guard when Camdon Johnson, a manager at Amazon's Redlands fulfillment center, motioned to his co-workers to unload the truck. "Angels' Closet has been a phenomenal staple in this community in providing in need teens with clothing for school among personal supplies," Johnson said. "This is a thank you for that."
Williams began to cry.
She was speechless.
Angels' Closet accepts gently used and new clothing year-round.
To learn more, go to www.angels-closet.org.