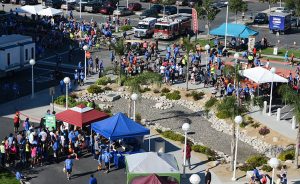 Arrowhead Regional Medical Center (ARMC) will host its 10th Annual 5K Walk/Run on Oct. 22 at 8:30 a.m. to promote the fight against obesity and other health conditions. The 3.1-mile race and health expo will take place on the ARMC campus. The free event will include activities for adults and children. The race route interlaces through roads in the neighborhood adjacent to the hospital. The best method of registration is advanced online registration at www.arrowheadmedcenter.org. Participants who arrive at the event un-registered will be required to complete identification and liability paperwork before the race. Day-of registration begins at 7 a.m. and no registration will be accepted after 8:15 a.m. (Please arrive early enough to find parking and get to the registration area.)
The Health Expo will include free flu shots (while supplies last), free basic health screenings (height, weight, BMI analysis, and blood pressure) and diabetes educational materials. Numerous booths will offer information, giveaways and fun activities for the entire family.

Free T-shirts are offered to the first 500 who register online. T-shirts will be available for purchase on race day for $10 each. Children age 10 and under get a free T-shirt (while supplies last).
Early Registration Packet Pick-Ups
* Oct. 15: 1 p.m. – 4 p.m., Frank A. Gonzales Center, 670 Colton Avenue, in Colton.
* Oct. 21: from 4 p.m. – 7 p.m., Frank A. Gonzales Center, 670 Colton Avenue, in Colton.
For more information, visit www.arrowheadmedcenter.org, or call 909-580-3142.