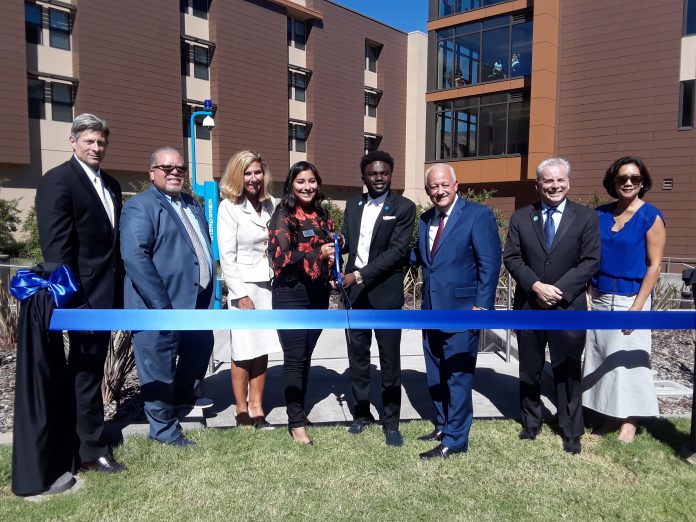 California State University, San Bernardino celebrated a milestone Monday, Sept. 17 when it held the official grand opening of the single largest development project in its history – Coyote Village and Coyote Commons – the first phase of a five-year plan designed to facilitate growth and enhance the total college experience.
"Standing here alongside these beautiful new buildings, it is both satisfying and inspiring to see the realization of this part of the Campus Master Plan, which serves as the roadmap as we continue to grow as a university," CSUSB President Dr. Tomás Morales addressed faculty, staff, students and alumni gathered at the Village's courtyard. "I know Coyote Village and Coyote Commons will quickly become an integral part of our campus. It also is another great example of how, at CSUSB, we define the future."

Coyote Village is 114,000 square feet and offers more than 400 beds for first-year students. The new facility features study and living spaces, a large multipurpose room, a community kitchen, a spacious courtyard, a dedicated wing for the university's Honors Program, and will be home to two faculty members participating in the faculty-in-residence program during the 2018-19 academic year. This is the first phase of a larger residential community that will eventually serve an additional 1,200 students.
"The goal is to provide students who live here a welcoming, safe and enriching environment," said Dr. Shari McMahan, Provost and Vice President of Academic Affairs. "First year students who live on campus show higher persistence, higher graduation rates and GPA's."
Existing on-campus residential facilities are Serrano and Arrowhead Villages, with University Village across the street on Northpark Boulevard. According to Morales the goal is to transform CSUSB into a residential campus.
Coyote Commons, adjacent to Coyote Village, is 50,300 square feet and is open to all students, faculty and staff. The dining hall features a full range of cuisines, both self-serve and full-service food stations, late-night dining, a convenience store and outdoor spaces for meetings and social functions. Coyote Commons can seat up to 700 people in its dining area and has a 50-seat mezzanine and private dining room. All food stations will offer vegan and vegetarian options.
"This is the first of the capital additions, and serves as the anchor facility on this side of campus," Dr. Doug Freer, Vice President of Administration and Finance, said about the new student housing community and dining complex. "(The project) took four years of planning and construction, hundreds of planning meetings that required much dedication and daily attention from the cross-divisional project team.'
Coyote Village and Coyote Commons cost $95.8 million, the largest single capital project in the university's history, funded through rental rates of students living in the residence halls. No state general fund dollars were committed to this project.
The Center of Global Innovation building and student union expansion projects are scheduled to be completed next year.