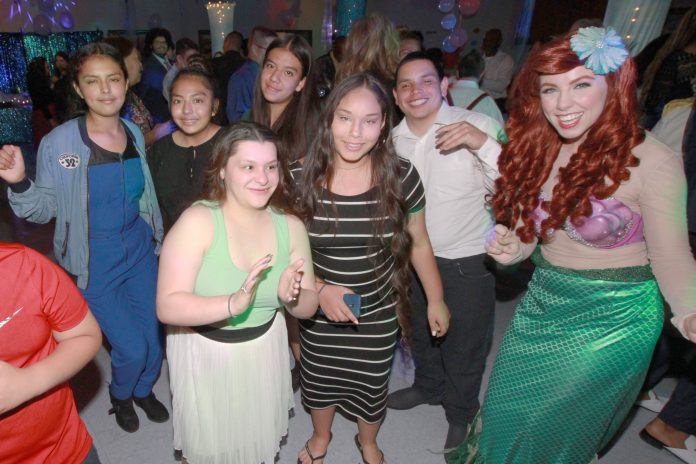 On Saturday, May 18, Friends of CID (Center for Individual Development) and the City of San Bernardino Parks Recreation & Community Services Department hosted the "2019 Under the Sea Prom" for several of its clients.
During prom clients and their family enjoyed several activities, the most popular of which was dancing! No shy kids here, they were all on the dance floor, almost nonstop. It took a small army of volunteers to help decorate the dance hall at the 5th Street Senior Center where the event took place. Volunteers served food, refreshments, dessert, conducted a raffle handing out door prizes, and assisted at the photo booth. The event was free of charge. This special needs prom is an annual event that is hosted by "Friends of CID."

The CID is a regional recreation center that provides recreational programs for people of all ages who have special needs. The Sunshine Club provides after school social-recreational programs. Aquatic Program provides an indoor pool with access to swimming and swimming lessons. Merri-Mixers is a social-recreational program for adults over 25 years of age, which includes group activities, field trips, crafts, games, cooking activities, and community outings. Kitchen Masters is the social-recreational cooking program were participants bond over the enjoyment of food. The CID facility also has a Sensory Room and several multipurpose rooms for various activities.
In keeping with the "Under the Sea" theme, "The Little Mermaid" Ariel look-alike paid a visit to the prom. Ariel interacted with clients and guests by dancing, posing for photographs, shaking hands, and giving kids hugs.
Friends of CID host several activities and fundraisers during the year. Grapes & Gourmet is a food and wine tasting event featuring several vendors, restaurants, wineries, and breweries from the Inland Empire. A live and silent auction is conducted to raise funds during the event. Murder Mystery Dinner is an evening of fun and costumes and lots of guest participation. Awards Night is held to recognize those who have helped in donating or volunteering during the year.
A prom king and queen were announced – Prom Queen was Brandi Guinn, and King was Johnathon Rose, both of whom were crowned by Ariel.
According to the City of San Bernardino's website, "In 1975 Margaret Relph, founder of the Merri-Mixer program, began to lobby the City of San Bernardino for a recreation center for people with developmental disabilities.  On October 24, 1980 the Center for Individuals with Disabilities opened.  The center is now managed and operated by the City of San Bernardino Parks, Recreation & Community Services Department.  The center would not be open today without the support of the Friends of CID, a nonprofit organization dedicated to the fundraising activities, marketing for the CID and its programs."