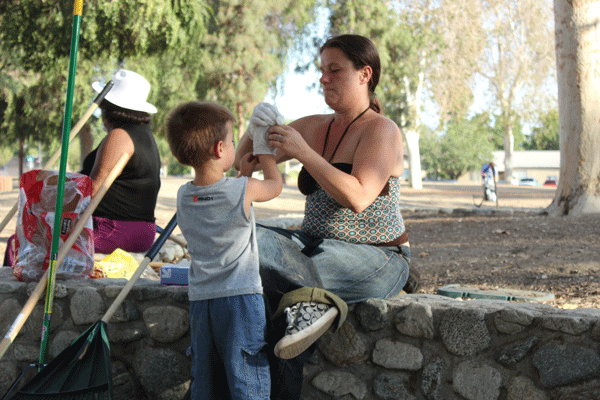 I see unoccupied homes boarded up and empty businesses that used to have a normal clientele. It's all too common to hear gunshots, wailing sirens, and helicopters at night. For many of us San Bernardino residents, it's all we know.
Despite the inroads we've made through education and technology, our society continues to see rampant levels of drug use, gang violence, and homelessness. In fact, they've worsened in areas like San Bernardino.

Through the years I've heard how bad our city is. "Get out of there," they would say. "Be safe where you go." Recent tragedies and controversies have helped to spur a negative portrayal of the city.
I understand these frustrations. Trust me, I've lived here all my life and also see what goes on in the streets. Families living out of motels, transients shooting heroin at local parks, and mothers shedding tears are disheartening experiences.
Nonetheless, instead of complaining how bad San Bernardino is, we can pitch in to help improve our situation. How do you ask? There are endless opportunities to take advantage of.
Organizations such as Mary's Mercy Center in San Bernardino provide programs that benefit homeless children, women, and men. They are home to more than 300 volunteers from the Inland Empire. People like Henry Garcia, lifetime residents of San Bernardino, have invested personal time to connect with the community.
There is also the Inland Congregations United for Change and the Congregations Organized for Prophetic Engagement. Together the clergy organizations have garnered hundreds to walk the streets for peace. They've held forums and personal visits with city leaders, demanding they address gun violence among youth. One can participate by simply joining a "peace walk" every last Thursday of the month.
Time for Change Foundation's Kim Carter, a formerly drug addicted prisoner of the state, is leading a nonprofit that helps at-risk women and their children to get their lives back on track. Their rapid housing services and one-on-one counseling wouldn't be possible without the support they've received from community residents.
Remember, cleaning a park or donating items to a local shelter or charity is also an admirable, yet simple act of kindness. It's as easy as taking out the trash.
Through my reporting I've realized there are residents who do feel passionate about San Bernardino. They are proud of our city and acknowledge San Bernardino has potential for growth. Their vision and leadership exemplifies the good that exists in our struggling, yet vibrant community.
However, they can't improve the city on their own. It is up to us to take initiative and get involved. We need to educate ourselves on the issues of our community if we want to improve.
Acknowledging our city's woes is commonplace, but we can't stay stagnant in that negativity. Improving San Bernardino's condition will have to go beyond the armchair critiques of a few disgruntled residents. Involving ourselves with optimism will help this city move towards a brighter future.