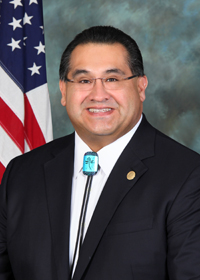 An Op-Ed by Assemblymember James C. Ramos
Law enforcement and emergency medical technicians face a difficult situation when they respond to help someone experiencing a psychiatric episode. Thankfully, with the creation of crisis stabilization units, individuals can receive treatment without clogging our emergency rooms or crowding our jails.

San Bernardino County has been a pioneer in treating behavioral and mental health crises with their construction of crisis stabilization units throughout the county. These units are designed to offer care and monitoring for individuals aged 13 and above that require urgent psychiatric attention. These centers provide safe, calming settings with mental health professionals who specialize in crisis treatment, track their progress, and connect patients to local community resources.
Typically, these facilities provide care on a short-term basis and have between 16 and 20 beds. Psychiatric care administered in a separate, comfortable facility creates an environment more suited to stabilization than hospital settings. Following stabilization, these facilities provide outpatient treatment for patients such as therapy, case management, and medication support. Treatment is voluntary and can be referred by local law enforcement, healthcare workers, or patients themselves.
Crisis stabilization units uphold our duty to the community to promote recovery and provide cost-effective treatment options. There are six facilities in San Bernardino County, accessible to the public and open 24 hours a day. By making mental health treatment a central component of our public health plans, we can assist in breaking the stigma surrounding mental health and encouraging more people to seek out help.
While the county has an effective program of crisis stabilization, I would like to see more. We can do more to ensure their program is effective in all regions of our county, and I will continue to advocate to provide programs of this kind further infrastructure and support. This year I put in a request in the 2019-2020 budget to secure funding for Patton State Hospital to develop a crisis stabilization unit onsite. We will continue to be a strong advocate for ensuring positive mental health outcomes. We must work to not only raise awareness for mental health issues, but also to identify creative opportunities to expand services. Doubling down on investments in crisis stabilization units will keep our communities safer and improve outcomes for those in need of treatment.