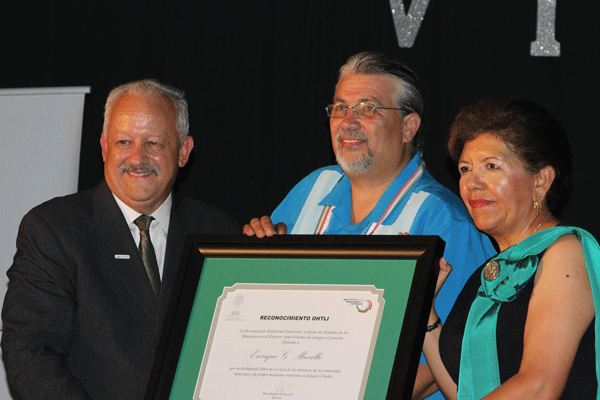 Educators, planners, volunteers and service providers for Cal State San Bernardino's Latino Education and Advocacy Days (LEAD) Summit received the prestigious Presidential Volunteer Service Award from President Obama's Council on Service and Civic Participation for the fifth time.
"This recognition is encouraging," Cal State San Bernardino Professor Dr. Enrique Murillo Jr. said during a phone interview Tuesday. "I'm very pleased we received this award. It's a huge honor."

The LEAD organization is a volunteered-based and volunteer-driven organization which serves as a primary site for a set of innovative and productive programs, publications, and events regarding Latinos in Education.
LEAD's annual summits at Cal State San Bernardino have attracted thousands of educators, students and activists from throughout the United States and around the world through through the use of digital media and traditional organizing principles, according to Murillo.
The 2013 LEAD Summit alone attracted 1,200 people. Structured as an all-day forum at the CSUSB Santos Manuel Student Union Events Center, the Summit focuses on preparing students for success in their pursuit of higher education and career pathways.
Murillo said their work is needed now more than ever.  The Education Professor believes there is a "crisis in education" that is widening the achievement gap among Latinos.
Despite the decrease in high school dropout rates among Latinos across the U.S. (dropped from 33-percent as reported in 1993 to 14-percent in 2013), several factors, more importantly, economic issues have hindered Latino achievement in higher education.
As reported by the Pew Research Center in a 2014 poll, 66-percent of Latinos who got a job or entered the military directly after high school cited the need to help support their family as a reason for not enrolling in college, compared with 39% of whites.
"Even though numerically there's a lot of us, in terms of political power we're not making a difference," Murillo said. "LEAD brings attention to those issues. It treats education as a civil rights issue."
Murillo is confident LEAD will continue to provide a platform for educators to discuss issues affecting everyone around the nation.
"All the things the U.S. experiences, we feel here," Murillo expressed. "Our activities could not happen without the hard work and dedication of our numerous highly motivated planners, volunteers and service providers."