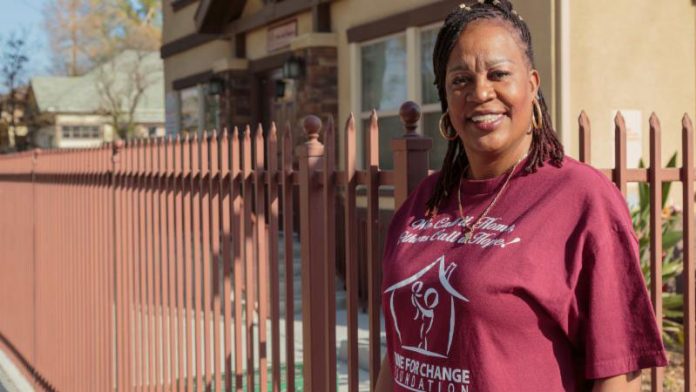 The James Irvine Foundation today announced the recipients of its 2018 Leadership Awards, recognizing eight leaders at six organizations for advancing solutions to several critical issues facing California: affordable housing, civic engagement, homelessness, immigration, safe drinking water, and youth development. Among those leaders is
Time for Change Foundation's
very own, Kim Carter.
Abused as a child and addicted to crack cocaine by age 17, Kim Carter cycled in and out of prison and homelessness, unable to retain custody of her daughter and facing stigma and discrimination from potential landlords and employers. Fortunately, six months of treatment with housing in San Bernardino County gave her the chance to rebuild her life.
Carter then started Time for Change Foundation to ensure that mothers facing homelessness in San Bernardino get the same opportunity. The nonprofit helps women on their path to self-sufficiency through affordable housing, employment assistance, financial planning, family reunification, life skills, and drug rehabilitation. Since 2002, the organization has helped more than 1,000 women reach self-sufficiency, with 98 percent remaining in permanent housing.
Each year, the Leadership Awards recognize individuals and organizations displaying a commitment to innovation and a record of success in improving people's lives, creating opportunity, and contributing to a better California. The Foundation provides each recipient's organization with $200,000 to support work that merits expansion, replication or policy support and helps recipients share their approaches with policymakers and practitioners.

The 2018 award recipients are:
Kim Carter, Founder and Executive Director, Time for Change Foundation, for securing affordable housing to help women rebuild their lives
Susana De Anda and Laurel Firestone, Co-Executive Directors and Co-Founders, Community Water Center, for empowering communities to secure safe drinking water
Christina Mansfield and Christina Fialho, Co-Executive Directors and Co-Founders, Community Initiatives for Visiting Immigrants in Confinement (CIVIC), for advancing humane reforms to immigration detention
Oscar Menjivar,Founder and CEO, TXT: Teens Exploring Technology, for preparing young men and boys of color for careers in technology
Teresa Smith, Founder and CEO, Dreams for Change, for preventing chronic homelessness through asset building
Anthony Thigpenn, President, California Calls, for ensuring California's democracy reflects its diversity
"These innovative Californians and the organizations they lead offer hope and inspiration each year," said Don Howard, President and Chief Executive Officer of The James Irvine Foundation. "In a time when so many challenges seem intractable, it is our privilege to spotlight effective leaders advancing solutions that create real change in our state."
Howard and representatives of the Foundation will join California policymakers and others to honor the award recipients at a reception in Sacramento on February 28th, including remarks from Sacramento Mayor Darrell Steinberg. Photos and videos of the recipients are available
here.
The Irvine Foundation has honored more than 80 Californians with Leadership Awards since the program began in 2006. Award recipients are chosen by an independent selection committee that reviews nominations based on several criteria, including the significance, effectiveness, and innovation of the leader's work. To learn more about the James Irvine Leadership Award please visit:
www.irvine.org/leadership
.