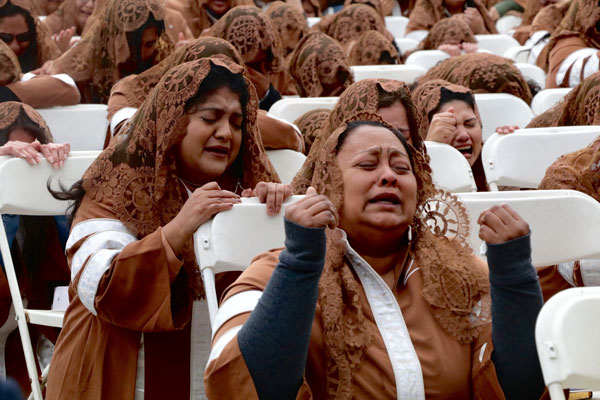 Thousands were on hand at the Glen Helen Amphitheater Saturday for La Luz Del Mundo (Light of the World) Church's Holy Convocation opening ceremony.
The four day event, known as the "Holy Supper", commemorates the death and redemption of Jesus Christ.

This is the first year the Light of the World Church held its sacred ceremony in the United States. The church, first founded in Guadalajara, Mexico in the 1920s, has expanded to 53 countries and has about 7 million members.
Over 100,000 people attended this year's convocation from countries like Australia, Spain, and Vietnam.
Spokesperson Benjamin Valle said San Bernardino was chosen as the destination for the "Holy Supper" because of the growing number of followers coming from California, where 12 percent of U.S. members of the church are from.
Naason Joaquin Garcia, who is known as the "Apostle of Jesus Christ" by followers, was on hand on to speak to the thousands of people that poured into the amphitheater.
"Let us thank the lord for inviting us to this grand party," said Garcia. "As you see, this is biggest party of all the earth. I'm certain the lord will continue to fulfill his promises in making this supper larger and larger. Soon, this entire nation will be filled with the word of our church."
The celebration evokes emotion in many of its followers. Many were yelping, singing, and crying when Garcia made his entrance into the amphitheater.
Valle said that emotion is normal.
"This is how they show their gratitude towards God," explained Valle. "The crying is the manifestation of their soul."
Omar Gomez of Palmdale, who has been a member of the Light of the World Church for 19 years, said attending the supper was one of the greatest moments of his life.
"This is a very special day for us," Gomez said wiping off his tears. "There's nothing better than being here in salvation."