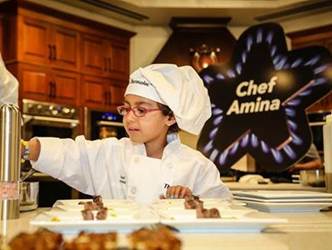 The Make-A-Wish Foundation is celebrating 35 years of granting critically ill children's wishes in Orange County, Los Angeles, and Inland Empire.  Make-A-Wish is the largest wish-granting organization, fulfilling more than 300,000 wishes in the United States and its territories.
The foundation has been operating since the 1980's starting by granting the wish of Chris Greicius, a seven-year-old diagnosed with leukemia who wanted to be a police officer.  Those responsible for making his wish come true wanted to grant other children's wishes as well, thus creating the Make-A-Wish Foundation.

As the foundation looks back on the wishes it has granted over the years, Amina Ihmud, ten-year-old Ontario resident comes to mind. Amina was diagnosed with leukemia in 2013, and even while going through chemotherapy she still loved dancing, playing with her dog and especially cooking. Over the months she became weak and ill due to treatment; her mother heard about the Make-A-Wish Foundation through another mother whose child had recently got her to wish granted.
"At the time Amina didn't really care, she was so sick and grumpy from her treatments but I still put in the application, by the time we went through the interview process she was feeling better," said Anabel Martinez, Amina's mother.
To be eligible for a wish a child must have been diagnosed with a progressive, degenerative, or malignant disease that puts their life in jeopardy. They also must be older than two-and-a-half but younger than 18 and have never received a wish from another wish-granting organization.
Amina's wish was to be a chef for a day, she's had a passion for cooking for years and loves to cook for her family. Her wish was granted in 2014, Thermador Pro Kitchen offered their Event and Design Center to become "Amina's Café" for the day. This included all their high-end appliances, a chef to help guide Amina while she cooked for her friends and family, and given a personalized chef coat and hat.
"When we went inside the place was amazing, I got my chef coat, they gave me a plan and the chef helped show me what to do," said Amina. "I got to ice cupcakes and I got a basket filled with cooking supplies. I really love cooking for my family and that was amazing."
Amina served her family and friends shrimp, vegetables and steak, and cupcakes for dessert. As the night went on Amina was able to sit down and autograph her very own cookbook for her guests, the cookbook contained the recipes that she cooked that evening.
Now, a few years later, Amina still dreams of becoming a chef and opening her own restaurant while also hoping to host her own cooking show on the Food Network.
"Make-A-Wish means a lot to me because at the time I was sick and not able to do much, they helped me become a chef for a day and they'll never be forgotten because of that," said Amina.
Amina and her family have continued being involved in the Make-A-Wish Foundation, starring in commercials, YouTube videos, and working towards becoming ambassadors for the foundation.
"The reason why we help is that we want everyone to give back, she was sick once and there are other kids going through the same thing," said Anabel. "Even something small or volunteering can make all the difference."
There are numerous ways to get involved in the Make-A-Wish Foundation through donation, fundraising, and volunteering. The foundation is especially looking for bilingual and Spanish speaking volunteers for the Inland Empire, Orange County, and Los Angles areas.
To learn more about ways to volunteer check out their website at ocie.wish.org or give them a call at 714-573-9474.