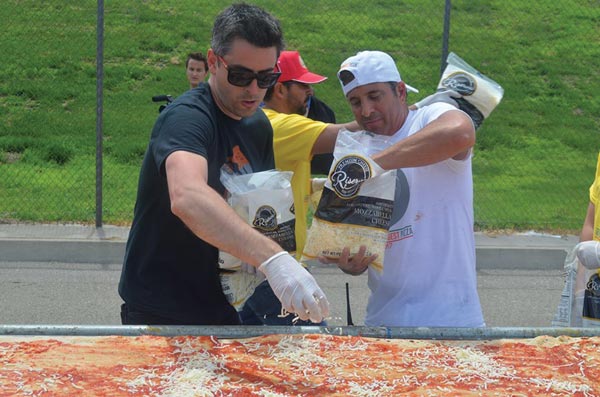 What does 17,756 pounds of dough, about 5,000 pounds of sauce and 3,900 pounds of cheese get you?
A recipe for a world record!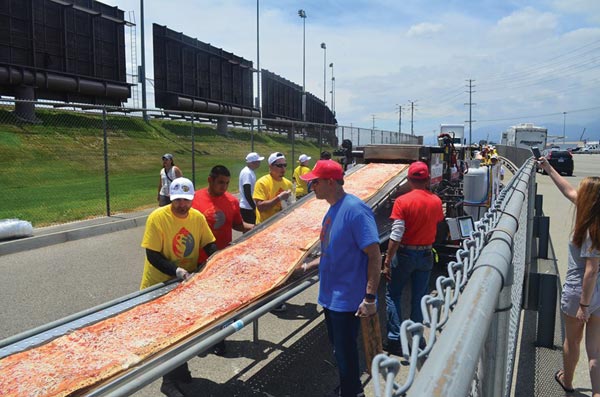 Pizzaovens.com, with the help of 55 top pizzaiolos from across the U.S. and 150 pizza loving volunteers, set the Guinness World Record for the longest pizza June 10 at the Auto Club Speedway in Fontana. Organizers missed their 7,000-foot mark, but still created a record-breaking mozzarella mammoth measuring 6,330.30 feet and stretching about 1.3 miles — held up on aluminum scaffolding— around the speedway oval, defeating the record of 6,082 feet previously set in Naples, Italy.
The monster pizza weighed-in at more than seven tons and could feed more than 10,000 people, which it did.
The nearly 2,000 spectators on hand to witness the historic event were offered a celebratory slice, while proceeds and the majority of the pizza, was donated to local homeless shelters and food banks.
"It was hard work! But worth it," said Fash Asvadi, Pizzaovens Inc. director and World's Longest Pizza project manager, in a written statement. "I realize now why no one had attempted to bring the record to the US till now. We had so many obstacles during the course of the attempt. From mechanical failures to trying to make it through the sharp bends with a 40-foot trailer, sheer determination was the main ingredient in completing the course."
According to the LA Weekly, organizers had to meet certain criteria for the pizza to qualify as record breaking: the pizza had to be at least twenty inches in width—the approximate diameter of a large pizza — and the end result had to stretch over 3.4 inches long (about 1.15 miles) to beat the previous record. Also, food regulations in San Bernardino County say that cooked food can not be left out in room temperature for more than four hours. Volunteers for the Naples record took eight hours to bake their pizza, hopefuls in Fontana worked on a tighter shift.
"We started at 11 p.m. on Friday with the first cook and completed this about 10 a.m. on Saturday," said Asvadi. "The second round of cooking started at 11 a.m. on Saturday and ended around 3:30 p.m.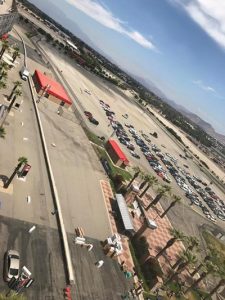 A Guinness World Records adjudicator made the record official.
"Putting this project together was an amazing experience. Just to see how a team can come together to overcome any obstacle is an experience I will never forget, said Asvadi."