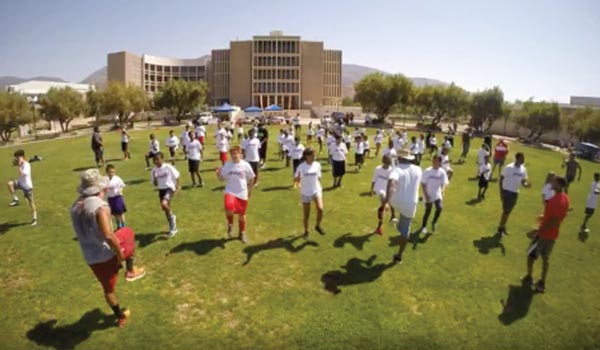 Green Bay Packer Kenny Clark will be back in his old stomping grounds of San Bernardino this weekend.
The defensive tackle, along with the Athletes for Life Foundation, will host an NFL Play 60 Day challenge for Inland Empire youth, June 25 at Cal State San Bernardino, promoting health in fitness among kids. His mission, along with the National Football League, is to see this generation of youth become more active and healthy, according to a news release.

Clark talked with Rialto city officials in February to discuss ways the North Park Elementary and Carter High alumnus could give back. And as a former participant in the Athletes for Life program, Clark felt it was only fitting to give back to the program that helped create such memorable experiences for him. His goal is to spread the idea of "keep pushing" forward.
"The biggest thing I want to bring back to the community is encouragement," he told The Rialto Record in February. "I want kids to understand that if you're really passionate about something, handle your business and get it done. I'm a go-getter and my message to all the kids is that we can make it up out of here. Don't stop, you can make it."
The NFL launched its Play 60 program to encourage youth in America to be active for at least 60 minutes a day. The health and fitness campaign focuses on the overall wellness of children through various outreach programs such as Saturday's event. Clark is dedicating the event in memory of those affected by recent events at North Park, which is in San Bernardino.
Registration starts at 11 a.m. and the event is free to Inland Empire youth ages 3 to 12.. Cal State San Bernardino is at 5500 University Pkwy.
For registration information and to learn more, go to www.athletesforlife.org or call 909-816-8801.