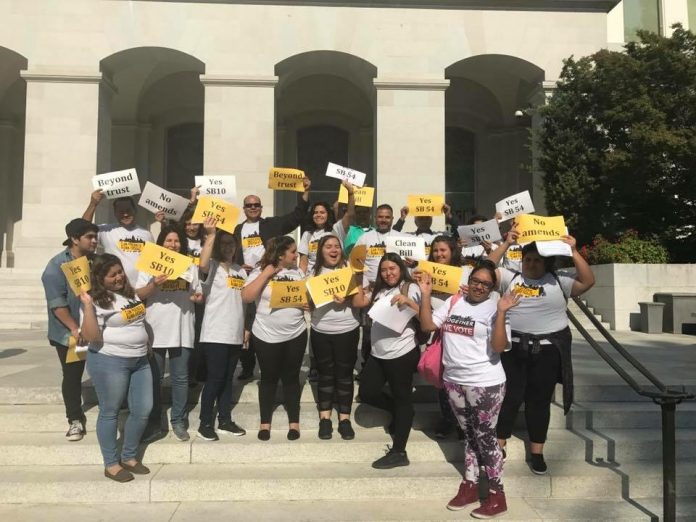 California Assemblymembers have the opportunity to protect our immigrant communities by passing Senate Bill 54. The bill aims to prevent the use of local and state resources to assist Immigration Customs Enforcement (ICE) in deportations. SB 54 was introduced Dec. 2016 by Rep. Kevin De León and will be voted on Sept. 15, 2017.
Senate Bill 54 is crucial for the safety of our communities in California. Many of our community members are undocumented and constantly live in fear. The bill is supposed to be a 'sanctuary bill' to help keep our families together by defining a clear line between California public resources and ICE.

"SB 54 means living a life with less fear for our community, it means living with a basic human right of not living with the fear that by any moment our families will be separated. It is a basic human right to live without fear," said Mrs. Esparza, a community leader, who only wanted to use her last name.
Our undocumented communities have suffered enough and continue to suffer every day. From the uncertainty of being deported and separated from family to having the toughest time finding a job and then not having the privilege to fight back after being exploited for one's labor. Our undocumented communities face discrimination and have limited resources when trying to attend college or get health care services.
This means having physical and mental issues that one cannot simply deal with by going to the doctors. Imagine not being able to visit one's homeland to visit family members and even worse missing the passing of a loved one  because leaving the country would mean one could not return. Also, being undocumented means that when one is a victim of abuse, one cannot simply put charges on the abuser because of the fear the victim might have of being deported. Being undocumented means not living at peace every day.
According to the Public Policy Institute of California, there are over 2 million immigrants residing in California. This  means that SB 54 would impact a large proportion of California residents who partake in our economy and communities.
Since the 2016 election, policy initiatives and statements from the President have shown us that the undocumented community has become a bigger target. During Trump's campaign he promised to "terminate President Obama's illegal executive order on immigration," referring to Deferred Action for Childhood Arrivals (DACA).  This would be a threat and a step backward for the 790,000 undocumented young people who rely on the program.
We need to push back on the immediate attacks to our immigrant families. We cannot allow our state to speed up the process that the POTUS and other xenophobic people want to use to separate families with our public resources. Undocumented folks are human beings. We need to continue to fight for the sake of their humanity, not because they help boost our economy or are the 'cream of the crop,' but simply because they are human.
We need our Assemblymembers to stand with us and take a stance on the bill. It is crucial that we have our representatives take a clear stance, unlike Rep. Sabrina Cervantes, who refuses to take a stance despite being asked by many of her constituents and organizations.
I ask the Assembly: can you imagine unexpectedly being detained and separated from your loved ones? Could you live with the possibility of never seeing your loved ones again? Think of that.
Guest columnist Alicia Aguayo is a fourth year public policy student at the University of California, Irvine. 
---
Join our newsletter for weekly wrap-ups of our community coverage, exclusive advertising opportunities and local business specials!