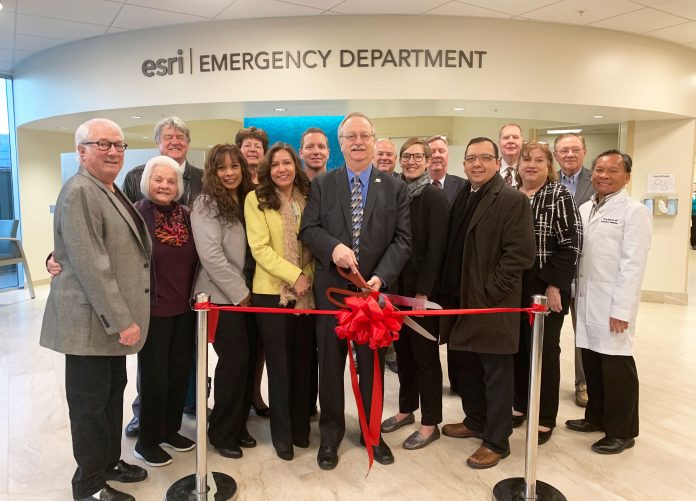 Expansion is vital for the Emergency Department (ED) at Redlands Community Hospital. The expansion and renovation will almost triple the department's size to 22,000 square feet and allow the hospital to care for 70,000 patients a year. This means a better patient experience and more lives saved. As Phase 1 of the expansion has concluded, Redlands Community Hospital opened its new emergency department entrance on Terracina Boulevard to the public on January 23rd.
The completion of phase one included relocating Wound Care and Rehabilitation Services to new areas, opening a new entrance and parking for the ED in the front of the hospital on Terracina Boulevard.

The second phase will include the remodeling of the existing ED space that will nearly triple the size of the ED and provide additional private rooms, critical care rooms, and a dedicated psychiatric and support care space. The third phase will include a spacious, brighter entry plaza. The area will include a coffee bar and a larger gift shop.
The Redlands community continues to grow steadily, and the number of patient visits to the Emergency Department has increased every year since its construction in the 1980s. Currently the hospital sees nearly 53,000 patients in the ED annually and the expansion will almost triple the size of the department to 22,000 square feet and allow us to care for 70,000 patients a year. The new ED will feature cutting edge technology, increase the number of beds from 21 to 33, speedier admission and triage, and improved patient privacy. Construction is expected to be completed in 2020.
"As our community continues to grow, there was a clear need to increase our capacity for health care services," said Pam Allen, director of emergency services. "We're thankful to our generous donors for helping us make this much needed expansion a reality."
Redlands Community Hospital is located at 350 Terracina Blvd., Redlands, CA 92373. To learn more about the hospital, visit: www.RedlandsHospital.org or call: 909-335-5500.